Eric Worre – Top Trainer Interview
March 29, 2012
By Team Business For Home
Eric Worre has been in MLM for well over 24 years and is one of the Top Trainers in the industry. He lives in Chanhassen, Minnesota, USA and is married to Marina Worre. Eric is father of 3 children, 2 step-children and has one grandson.
He is one of the most sought after success coaches in the MLM profession. Starting out as a young adult, going nowhere with his life, Eric has now been the envy of million, building organizations into the hundreds of thousands and training over 250,000 networkers through Network Marketing Pro.
Ted Nuyten had to honor to interview Eric Worre.
Eric, how did you get involved into MLM, who sponsored you in your first opportunity, and is he/she still active and how has your life been changed by this industry?
In 1988, I was working for my father and his partner John Joyce in their real estate company. As a new real estate agent, I was scrambling to make ends meet and not doing a very good job. My dad and John invited me to check out an opportunity where "maybe we can make some extra money".
After being negative initially, I finally warmed up to the idea (borrowed some money from my Dad) and got started. Both John Joyce and my dad are still involved in MLM to this day and have had great careers.
How has my life changed? It's hard to describe completely, because it's been completely transformational. Personal development, financial freedom, time freedom, world travel, incredible friendships, contribution, meaning, helping people live their dreams, the list goes on and on and on. I don't understand why more people won't pay the price to live this kind of life.
What is the biggest challenge you had to solve in your business career?
The biggest challenge was ME! I had to learn how to take responsibility for my business, my life, my problems, my habits, my skills, my associations, my emotions and even my results. Once a person understands that THEY are the key to unlocking their future, everything can change for them.T
The Worre Family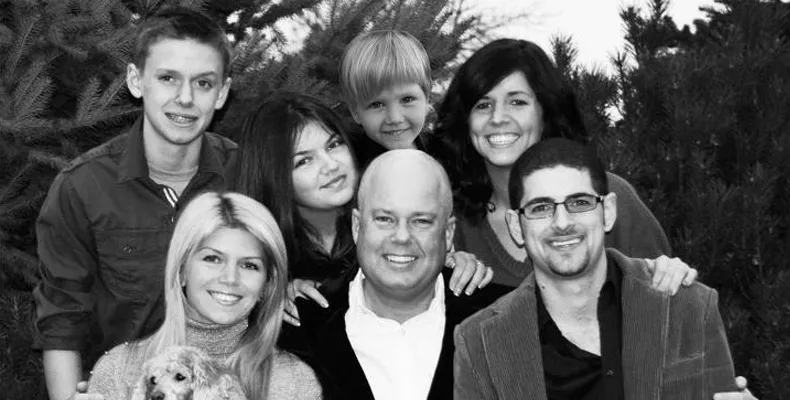 You are a generic MLM coach and trainer, what drive's you in this choice?
One of the great joys of my life has been traveling the world coaching, training, mentoring and guiding people to truly become Network Marketing Professionals. I've trained over 250,000 people in over 30 countries and many of them have gone on to spectacular success. It's so rewarding to be connected, in even a small way, to another person's breakthrough.
In 2009, I started NetworkMarketingPro.com as a platform to share ideas, provide training and encouragement and raise the profession to a whole new level. We've made tremendous progress and we're just getting started.
As a MLM trainer, what do you want to teach your students?
Network Marketing isn't perfect… it's just BETTER. We have a Better Way.
If you're going to be involved, decide to become a Professional. Decide to Go Pro.
In this profession, just like any other, SKILLS are important and you must focus on mastering those skills. Wishing and hoping isn't enough.
Like anything of value, it will take some time. But it's worth it.
Freedom is possible. And we can get there together.
Network Marketing Pro Interview with $ 70 million Top Earner Jeff Roberti
What is the biggest challenge for newbies; recruiting, duplicating, something else?
Recruiting is absolutely a "Gateway Skill". If you can't figure out how to recruit, nothing else matters. It's so important that we hold an annual Go Pro Recruiting Mastery Event every December to provide an entire weekend on the subject. Many of the free shows on NetworkMarketingPro.com are on the subject. And recently, I've started to travel around the world to do condensed 4-hour generic seminars on the subject.
| | |
| --- | --- |
| | |
| Eric and Marina Worre | Eric as Top Earner |
What advice would you give somebody checking out an opportunity, what is important?
Here's my short list:
Does the product or service have real customers who use the product over a long period of time with or without the benefits of the financial opportunity?
Are you passionate about the product or service?
Is there stability in the company for long-term success?
Is the philosophy of the company in alignment with yours?
Does the company have systems, tools & training so you can gain maximum leverage?
Talking about Social Media, Facebook, Twitter, how would you advice a Newbie to present him/her self?
Social media is an excellent way to meet people and expand your list. Use it to make real friends. Then, at the appropriate time, get OFF that platform and talk to them in person, over the phone, via skype, etc. to possibly share your product or opportunity. Please don't be "That Person" who's spamming everyone with their opportunity without building any kind of rapport. Use Social media. Don't abuse Social media.
| | |
| --- | --- |
| | |
| Traveling in Europe | Marina Worre and Bill Clinton |
Is in your opinion Old School dead, or alive and kicking, and how do you describe Old School?
I know what you mean when you ask the question, but in reality there isn't an "Old School" in our profession. There is what works, and what doesn't. It's true our world is changing and we have more tools than ever to reach out and connect with people. That is a great thing.
However, real growth comes from real relationships. Do you want to build a team and never meet them or get to know them? Good luck. It's going to be a tough ride. And you miss out on one of the greatest benefits of Network Marketing, which is the lifelong friendships you will develop along the way.
In conclusion, perhaps a killer success tip for our readers?
I just concluded an interview with Nathan Ricks, who earns around $4 million dollars a year and has earned about $55 million dollars in his career. When I read your question, one of his phrases popped into my head. Here it is. It's worth millions.
"You Recruit To Train. You Don't Train To Recruit" – Nathan Ricks
Do you want to train your people how to recruit? Then recruit. That will take care of it.
Eric Worre contact details:
– Check out https://www.networkmarketingpro.com
– Join the fun at https://www.facebook.com/nmpro
– Find Eric on facebook at https://www.facebook.com/ericworre
– Follow his updates On Twitter: https://www.twitter.com/EricWorre