Top Leaders Carolyn Connolly, Sara Harper and Wendy Matthews join EvolvHealth
April 3, 2012
By Team Business For Home
Dallas, Texas, USA: EvolvHealth is pleased to announce the addition of top industry leaders Carolyn Dielmann Connolly, Sara Harper and Wendy Matthews.
"We are honored to welcome the tremendous leadership team of Carolyn Connolly, Sara Harper, and Wendy Matthews to Evolv," said EvolvHealth Chairman and Co-Founder Trey White.
"We are positively impacting the lives of 8.4 million people, and will ultimately help many millions of families around the world. Carolyn, Sara and Wendy and their leadership are in perfect alignment with our goals and vision, and we are excited to work in partnership with leaders of their caliber in achieving our mission."
"We are thrilled to be joining a company and team that is in momentum, with a proven system where new people are quickly creating exciting incomes, predictably and sustainably, for their families. The leadership, growth and momentum here at EvolvHealth are second to none," said Carolyn Connolly.
Carolyn Dielmann Connolly (photo) spent the past 7 years building a large organization with the Trump Network, where she was a top money earner, National Certified Trainer, Core Market Leader and Travel Committee Board Member.
Carolyn has prior MLM experience with NuSkin International, in addition to experience in Sales and Marketing, real estate, hospitality, National Geographic Television in Washington, D.C. and London, and freelance photography. Connolly lives in Vail, Colorado with her husband and two children.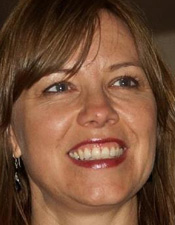 Sara Harper (photo) has more than 20 years experience as a Marketing Executive with agencies and in the hotel/tourism industry throughout North America and Australasia. She was most recently in Social Marketing with the Trump Network, where she led a successful team and did unique live training sessions for the network.
Sara specializes in strategy, branding, e-commerce, buzz marketing and lifestyle curating with an out-of-the-box approach. She is a natural connector with business and personal contacts internationally. Harper lives in Coronado, CA, where she is excited to grow a successful EVOLV team globally.
Wendy Matthews is also a former successful distributor, Certified Trainer and award winner with the Trump Network. Wendy was well known and respected not only within her own team, but also company-wide due to her popular daily training calls, including Mindset Motivation, Internet Marketing and live Q and A calls. Wendy has a background as a certified NLP Coach and has been a full-time Social Networker for over 4 years, having built teams internationally in over 10 countries.
She is excited to be part of the Evolv team and looks forward to working within the company's ONE TEAM philosophy and helping to achieve the goal of 8.4 million people improving their lives. Wendy is excited about the powerful partnership and is dedicated to help bring the E84 Challenge and Evolv's innovative products to thousands of people within her extensive circle of influence. Matthews is based in Montreal, Canada.
"I know I speak for both Carolyn and Sara when I say that we are excited and happy to have found a new home in Evolv with such an incredible team of leaders such as Garrett and Sylvia McGrath and the entire corporate team that brings so much talent, experience, vision and dedication to the table, said Wendy Matthews.
Together this team of leaders plans to build a dynamic global organization at Evolv, including international groups and other industry leaders.
Co-founder and CEO of EvolvHealth Brent Hicks said, "We feel blessed to have such great leaders choosing to make their home and create a legacy here with Evolv. Our culture is based on service, leadership, and a complete alignment of interest with our field partners, and our message and vision is now resonating globally with likeminded people who want to lead this revolution.
We are surpassing all growth projections already this year, and we are more than tripling the size of our facilities over the next 90 days. Evolv is growing fast and strong, and we are very excited about the future."
About EvolvHealth
EvolvHealth is a health movement company that has set an initial goal to help 8.4 million people to realize their health, fitness, wellness and life goals by completing their own e84 Challenge. The e84 Challenge is powered by 4 core categories to creating better health: Nutrition, Exercise, Energy and Support.
Evolv's exclusive line of products and technologies are backed by science and proven results, and the e84 is supported by a one-of-a-kind Facebook App that helps Challengers stick to their e84 in a fun, social media format to reach their goals. Headquartered in Dallas, Texas, Evolv products and the e84 is marketed through a network of independent business owners in the United States, Canada, Mexico, Chile, Colombia, and Peru. Visit https://www.evolvhealth.com for more information about EvolvHealth.
CONTACT INFORMATION:
Carolyn Dielmann Connolly
Email: cdcvail@qwestoffice.net
Phone: 970-376-1768