The Top MLM Mentors 2012 Nominations
October 2, 2012
By Team Business For Home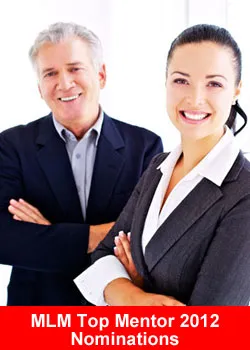 Behind almost every very success full person as Bill Gates, Oprah Winfrey, Michael Dell, Steven Jobs or Barrack Obama stands a coach or mentor. Therefore another step towards a successful MLM or Direct Selling business is to find out who will be helping YOU build your business.
MLM or Direct Selling is a relatively new thing in the market. There is a certain way of approaching MLM businesses that is different from the conventional approach. Most times, people who expose you to MLM opportunities are themselves fledglings in the field. Two points which are imperative in choosing the best MLM opportunity, ironically, may not depend on the company itself.
This is not to imply that MLM companies are not important; rather, the greater aspects of selecting an MLM opportunity is the people who will be working for you and the reasons for them to do so. Thus, is becomes important to find a "coach", someone to train and coach YOU.
MLM is all about duplication, so there is no harm in duplicating the success of an individual who has flourished in a specific business opportunity. By paying close attention to your coach, you can use his ways and be successful in the same manner.
TOP DIRECT SELLING MENTORS 2012
Based on the input of the Direct Selling Facebook community and other sources this are the Top Direct Selling Mentors nominations. Active leaders who are the best coaches in the world of Direct Selling. One of the guidelines we had: Is a mentor willing to do 3 way calls?
This Top mentors do not have to be the top earners in the company, however it are Ambassadors of the Direct Selling industry.
We are listing a maximum of 5 mentors per company – opportunity, there are definitely in every company more great mentors present. If you are mentored by one of them, you maximize YOUR business opportunity.
The list is not a rank but sorted on name.
TOP DIRECT SELLING MENTORS 2012
| Rank | Nr | Naam | Country | Company | Facebook Page |
| --- | --- | --- | --- | --- | --- |
| 1 | 1 | Adam Paul Green | USA | Xocai | www.facebook.com/adampaulgreen |
| 2 | 2 | Asbjorn Olnes | Norway | Morinda | www.facebook.com/oelnes |
| 3 | 3 | Ben Sturtevant | USA | Light Year Wireless | www.facebook.com/bensturtevant |
| 4 | 4 | Bob and Anna Bassett | Canada | It Works! | www.facebook.com/bobandanna.bassett |
| 5 | 5 | Brad Alkazin | USA | Vemma | www.facebook.com/bradalkazin |
| 6 | 6 | Brad and Marci Hager | USA | Zrii | www.facebook.com/BradHager |
| 7 | 7 | Brad Aspin | USA | GBG | www.facebook.com/gbgrep |
| 8 | 8 | Brian Carruthers | USA | Legal Shield | www.facebook.com/brian.carruthers.31 |
| 9 | 9 | Brian R. McClure | USA | Ambit Energy | www.facebook.com/capitoleagle |
| 10 | 10 | Calvin Becerra | USA | Monavie | www.facebook.com/goblackdiamond |
| 11 | 11 | Carsten Ledule | Germany | PM International | www.facebook.com/carsten.ledule |
| 12 | 12 | Chanan Oxenhandler | USA | Ambit Energy | www.facebook.com/chanan.oxenhandler |
| 13 | 13 | Christian Steinkeller | Italy | Organo Gold | www.facebook.com/christiansteinkeller |
| 14 | 14 | Christina Roberts Hales | USA | Nuriche | www.facebook.com/christina.roberts.hales |
| 15 | 15 | Conrad Padilla | USA | Monavie | www.facebook.com/conrad.padilla |
| 16 | 16 | Cynthia Venika | Indonesia | Oriflame | www.facebook.com/cynthiavenika |
| 17 | 17 | Daniel Mueller | Germany | Unicity | www.facebook.com/daniel.mueller.unicity |
| 18 | 18 | David Imonitie | USA | Organo Gold | www.facebook.com/davidimonitie |
| 19 | 19 | Dean Mannheimer | USA | Dubli | www.facebook.com/mannheimerd |
| 20 | 20 | Donna Johnson | USA | Arbonne | www.facebook.com/donna.johnson.587 |
| 21 | 21 | Edwin Haynes | USA | Organo Gold | www.facebook.com/edwin.haynes.12 |
| 22 | 22 | Eric Allen | USA | World Ventures | www.facebook.com/ahugeopportunity |
| 23 | 23 | Eric Caprarese | USA | DrinkAct | www.facebook.com/ericcaprarese |
| 24 | 24 | Eric Worre | USA | Send Out Cards | www.facebook.com/EricWorre |
| 25 | 25 | Floyd Holdman | USA | Morinda | www.facebook.com/floydholdman |
| 26 | 26 | Fred Herzog | USA | Gano Excel | www.facebook.com/fred.herzog1 |
| 27 | 27 | Gabi Steiner | Germany | Life Plus | www.facebook.com/gabi.steiner.7 |
| 28 | 28 | Garret McGrath | USA | Evolvhealth | www.facebook.com/garrettmcgrath |
| 29 | 29 | Geoff Liberman | UK | Euphony | www.facebook.com/geoff.liberman |
| 30 | 30 | Gideon Springer | The Netherlands | Juice Plus | www.facebook.com/gideon.springer |
| 31 | 31 | Holton Bugss | USA | Organo Gold | www.facebook.com/holtonbuggs |
| 32 | 32 | Jayne Leach | UK | FLP | www.facebook.com/jayne.leach.3 |
| 33 | 33 | Jean-Philippe Hulin | Belgium | Euphony | www.facebook.com/JeanPhiHulin |
| 34 | 34 | Jim Gillhouse | USA | My Life Share | www.facebook.com/jimgillhouse1 |
| 35 | 35 | Jim Lutes | USA | bHIP | www.facebook.com/jimlutes |
| 36 | 36 | John Haremza | USA | Waiora | www.facebook.com/john.haremza.7 |
| 37 | 37 | Jordan Adler | USA | Send Out Cards | www.facebook.com/pages/Jordan-Adler |
| 38 | 38 | Kara Egan | USA | Scentsy | www.karaandtroyegan.com |
| 39 | 39 | Ken Porter | USA | Monavie | ww.facebook.com/Kenutah |
| 40 | 40 | Kenny Isbell | USA | Cieaura | www.facebook.com/kennyamandaisbell |
| 41 | 41 | Kim Madsen | Denmark | FLP | www.facebook.com/mitliv |
| 42 | 42 | Lior Skaler | Canada | Global Wealth Trade | www.facebook.com/liorskaler |
| 43 | 43 | Margie Aliprandi | USA | Neways | www.facebook.com/margie.aliprandi |
| 44 | 44 | Maria Ghaderi | Canada | Global Wealth Trade | www.facebook.com/madmozel.maria |
| 45 | 45 | Masa Cemazar | Australia | bHIP | www.facebook.com/masa.cemazar |
| 46 | 46 | Matt Morris | USA | World Ventures | www.facebook.com/matthewdmorris |
| 47 | 47 | Michael Hamburger | USA | Real Estate Worldwide | www.facebook.com/michaelhamburger |
| 48 | 48 | Michael Maleck | Germany | Cacaomundo | www.facebook.com/maleck.michael |
| 49 | 49 | Michelle Barnes | USA | Vemma | www.facebook.com/vsuccesscoach |
| 50 | 50 | Nick Sarnicola | USA | Visalus | www.facebook.com/Sarnicola |
Showing 1 to 50 of 87 entries