USANA Q3 Net Sales Increased By 15.1%
October 24, 2012
By Team Business For Home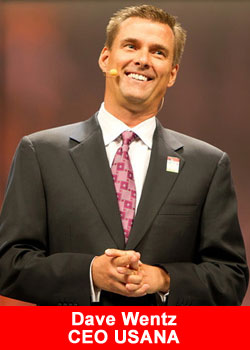 USANA Health Sciences Announces Record Third Quarter 2012 Financial Results
Third quarter net sales increased by 15.1% to $165.2 million
Earnings per share increased by 45.7% to $1.18 for the quarter
Company raises 2012 financial outlook
SALT LAKE CITY — (BUSINESS WIRE) — Oct. 23, 2012 — USANA Health Sciences, Inc. (NYSE: USNA) today announced record financial results for its fiscal third quarter ended September 29, 2012.
Financial Performance
Net sales for the third quarter of 2012 increased by 15.1% to $165.2 million, compared with $143.5 million in the prior-year period. The growth in net sales was driven by increases in both the Company's Asia Pacific and North America/Europe regions. Changes in currency exchange rates reduced net sales by nearly $1.0 million.
Net earnings for the third quarter increased to $17.5 million, an increase of 41.2%, compared with the prior-year period. This increase was due primarily to higher net sales, lower relative Associate incentive expense, and a meaningfully lower effective tax rate of 28.2% for the quarter. Earnings per share for the quarter increased by 45.7% to $1.18, compared with $0.81 in the third quarter of the prior year. This improvement in earnings per share can be attributed to higher net earnings and a lower number of diluted shares outstanding, which resulted from the Company's share repurchases over the last 12 months. Total diluted common shares outstanding as of September 29, 2012 were 14,884, as compared with 15,205 as of October 1, 2011.
"We believe USANA's exceptional results this quarter are largely due to the strategies we set into place during 2011 and the first part of 2012, which have combined to generate strong momentum for USANA," said Mr. Dave Wentz, Chief Executive Officer. "A highlight of the quarter was our 20th anniversary celebration at our International Convention in Salt Lake City, where we had record attendance and record sales. A significant part of our convention was the unveiling of our personalization strategy, which focuses on our customers and their experience with us. As part of this strategy, we announced MyHealthPak's availability in our Asia Pacific region and the launch of new tools and applications designed to help our Associates customize USANA's products for their customers. Personalization and customization are key components of our long-term strategy to grow our business and deliver value to both our customers and shareholders."
Regional Results
Net sales in the Asia Pacific region increased by 21.6% to $102.7 million, compared with $84.5 million for the third quarter of the prior year. This improvement was due to strong sales growth in Southeast Asia/Pacific and Greater China. This sales growth was driven by a 21.6% increase in the number of active Associates in Asia Pacific, as well as price increases in certain markets that were implemented in the first quarter. Active Associate growth was driven by double-digit growth in Greater China and Southeast Asia and, to a lesser extent, the addition of Thailand to the region.
"We are successfully executing our strategy in the Asia Pacific region," continued Mr. Wentz. "We reported local currency sales growth in nearly all of our Asia Pacific markets and double-digit growth in Greater China and Southeast Asia. We are encouraged by the sales and customer growth in Greater China this quarter, a region that represents a meaningful growth opportunity for USANA in the future. Consequently, growing Greater China is one of the pillars of our worldwide strategy."
During the third quarter of 2012, net sales in the North America/Europe region increased by 5.9% to $62.5 million, compared with $59.0 million in the prior-year period. The number of Active Associates in North America/Europe declined modestly, compared with the third quarter of 2011.
Mr. Wentz added, "Sales in our North America region, which continues to show indications of improvement, were aided by record Convention sales in the U.S. and a market-specific promotion in Mexico. Additionally, we see Associate productivity improving in this region. As we continue to execute our growth strategy in this region, we remain optimistic that it will continue to grow in the foreseeable future."
The Company maintained its successful track record of generating meaningful levels of cash from operations and ended the quarter with approximately $77 million in cash and cash equivalents. Cash generated from operations totaled $19.7 million for the quarter. During the quarter, the Company invested $8.9 million to repurchase 200,000 shares of the Company's stock.
Outlook
The Company provided the following updated financial outlook for 2012:
Consolidated net sales approaching $645 million, versus the previous outlook of between $630 million and $640 million.

Earnings per share between $4.35 and $4.40, versus the previous outlook of between $4.10 and $4.20.
Chief Financial Officer Doug Hekking commented, "In light of our strong third-quarter performance, and the current momentum we are seeing in the business, we are updating our financial outlook for the remainder of the year. Actual results and our updated forecast for the year would make 2012 USANA's tenth consecutive year of record sales."
Conference Call
USANA will hold a conference call and webcast to discuss this announcement with investors on Wednesday, October 24, 2012 at 11:00 AM Eastern Time. Investors may listen to the call by accessing USANA's website at https://www.usanahealthsciences.com.
About USANA
USANA develops and manufactures high-quality nutritional, personal care, and weight-management products that are sold directly to Associates and Preferred Customers throughout the United States, Canada, Australia, New Zealand, Hong Kong, China, Japan, Taiwan, South Korea, Singapore, Mexico, Malaysia, the Philippines, the Netherlands, the United Kingdom, Thailand, France and Belgium. More information on USANA can be found at https://www.usanahealthsciences.com