Todd Smith Interview – $25 Million Earner
June 29, 2013
By Team Business For Home
Todd Smith from the Sarasota, Florida, USA joined the industry in May of 1990 with NuSkin after having enjoyed a successful real estate career.
Todd built an organization of 1,600 people in his first four months. In his first month as an Executive (4th month in business) he generated more than 219,000 points and earned $31,600, which broke the record for the highest first check paid to a NuSkin Executive.
Todd became a Blue Diamond in 7 months and built a team of 10,000 people in 16 months before leaving to join Rexall Showcase International (RSI) in Sept of 1991.
Rexall was sold and merged with Enrich International in 2001 and the combined companies became known as Unicity International. Todd has been with the same company for 22 years and has earned more than $25 million USD. Todd's business currently generates more than $100 million a year in sales in 30 countries.
Ted Nuyten had the honor to interview Todd Smith:
Todd, why did you leave a lucrative real estate career to pursue a career in network marketing?
One day I was driving down the street after having enjoyed my best year ever when I asked myself, "Is this what I want to do the rest of my life?"
As I considered the constant stress and pressure I was under combined with the long hours, I said, "No". I then spent several months evaluating my options. When I stopped to consider network marketing, I had a negative perception based on the way others had approached me, but I was open-minded. When I evaluated all the upside benefits and the few downside risks, I made the decision that this was what I wanted to do with my life and I have never looked back. It was the best business decision I have ever made.
Todd Smith on Stage
Why are you successful?
I attribute my success to the fact that I have strived for excellence at the little things to be the best at what I do. I became the second highest producing real estate agent in the state of Illinois by age 28 by focusing on the little things that would give me the edge.
I have done the same thing in my network marketing career. I have strived to master the fundamental activities that go into building a successful network marketing business from the invitation call to teaching and developing leaders.
I have also strived for excellence to be the best person and role model I can be both personally and professionally. In network marketing, when you strive for excellence to be the best person you can be, your example has a ripple effect throughout your entire organization. Remember, for your business to get better your people must get better and it begins with your example.
The best of the best in everything are those who master the little things.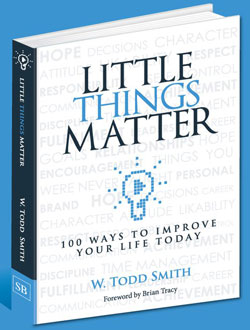 You even published a book about the little things?
In 2010 I published a book titled, Little Things Matter – 100 Ways to Improve Your Life Today. It was published by Success Books, a division of Success Magazine.
My blog at www.LittleThingsMatter.com grew rapidly when I was writing frequent posts and my podcasts became the #1 most subscribed to podcasts in the personal development space outside of iTunes.
This book teaches people the little things they can do to achieve greater success both personally and professionally. While just about every lesson has application to those in the network marketing industry, it was written to help people from all walks of life achieve greater success in whatever they pursue.
Did you sponsor a lot of people?
I have sponsored fewer than 50 people over the last 22 years, five of whom have earned over $5 million USD and two who have now earned over $10 million USD. My time has been spent doing two things: (1) I select the right people and (2) I teach, support and do everything I can to help those I select achieve their goals.
I am not someone who has sponsored hundreds of people and left road kill alone the side of the road. Anyone who brags about sponsoring hundreds of people is also bragging about the fact that they are either a poor judge of people or a poor sponsor.
People who want to build a large and thriving network marketing business should spend their time doing two things. (1) Looking for the right people and (2) Working with the right people.
How do you support your new partners?
When I sponsor people I schedule a strategy session within 48 hours where we discuss their goals, commitment and put together their plan. We break down their plans into the actions they need to take each day, which initially is making invitation calls.
I then teach them how to invite properly. After teaching them how to invite, I ask them if they can invite three people in the next 24 hours. If the answer is yes, I schedule a time to speak the next day after their invitation calls.
On this call we review each of their calls and discuss what they said and what their prospects said. I then give them some tips to refine their invitation and ask if they can make three more invitation calls in the next 24 hours. If yes, we schedule a firm time to talk the next day and once again review each call. I do this every day for the first week helping them master the invitation process.
I then speak with them 5-6 days a week for the first month; holding them accountable to their plan and helping them refine everything they are doing. Since no one I have ever sponsored did things correctly the first time, these daily calls are designed to help them make the small refinements that increase their results.
Todd, you have also developed training programs?
I have created training programs dating back to my days with NuSkin when I was selling 20,000 training programs a month. Since then I have authored more than 10 programs, including my generic training program called Cycle of Duplication sold by Dream Builders, a division of Video Plus and Success Magazine.
I am a firm believer that if you want to succeed, you must follow a step-by-step system that teaches you exactly what to do. When people are clear on what they should do, it builds their confidence and knowledge and increases their odds of succeeding.
And now you have decided to sponsor 2 more people?
I have decided to take my years of experience and invest in two more people. Our company has some new incentives in place and if I build 2 more 100,000-point legs I will earn more than $1.6 million USD in bonuses.
So, that is what I am focused on now! My objective is to find two highly respected network marketing professionals who have built their careers on a foundation of integrity and who are looking for the right sponsor and a home where they can spend the rest of their career.
What is your advice for a newbie in the MLM industry who wants to build a large business?
Don't waste your time trying to build your business if you are not serious. The reason most people fail in this industry is because most people aren't willing to do what is required to succeed.
To build a large business you must treat your business like a business. You must block out time each day and then hold yourself accountable to work your business during that time. You must be someone who refuses to make excuses for not working your business during the time you have blocked out.
Remember, you are the CEO of your own business. You must use your personal initiative each day to do the things you know you should do, even when you don't feel like doing them. That means prospecting if you are new!
Consider the fact that a penny being doubled every day for 31 days is $10 million dollars. A penny being doubled every other day for 31 days is $15. Don't think you can be inconsistent and achieve big goals. It doesn't work that way in any entrepreneurial business and it doesn't work that way in network marketing.
If you've got big goals, then get serious about achieving them. Push yourself each day to do what you know you should do. As you engage in the activities that drive results, strive for excellence.
After you get off each invitation call, be honest with yourself and evaluate how you did. Consider the little things you can do to get better. Do this with each presentation you give, with each three-way call you lead and with each new person you sponsor.
Always look for the little refinements you can make to master your profession. After 23 years I still look at EVERYTHING I do and ask, "How did I do? How could I have done it better?"
It's the compounding effect of constant and never-ending daily improvements that will lead you to achieving greatness in this industry.
Remember, income follows value. If you want to increase your income, you must first increase your value. As you master every element of your business, not only will your personal results improve, but you will also become a great role model and teacher.
How is your life today?
I am living the network marketing dream. I paid the price and today I am enjoying the rewards. I live where I want to live overlooking the Gulf of Mexico. I do what I want when I want with whom I want. I have an amazing relationship with my wife and children.
Building a network marketing business is not just about money. It's about lifestyle! While I know a lot of people who make a high income, I don't know anyone who enjoys the quality of life I now enjoy! I am as happy as I have ever been and love each day of my life!
Contact details Todd Smith: