Golf Legend Greg Norman Joins Organo Gold
August 28, 2013
By Team Business For Home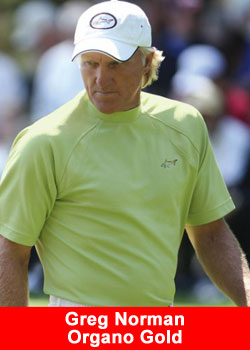 Greg Norman, Legendary World Champion Hall of Fame Golfer and International business icon, has made the decision to partner with Organo Gold.
Mr. Norman brings powerful, successful brand experiences to OrGano Gold. He has participated in endorsements with big name brands such as Cobra Golf, Reebok, and Sky Shades just to name a few.
However, one of his most successful brand experiences has been transferring his own living brand into the Great White Shark
Celebrity Net Worth
According to Celebrity Net Worth, Greg Norman and Great White Shark have a net worth of over $300 Million. The Great White Shark, sometimes simply The Shark, became Greg Norman's nickname due to his size of stature, blonde hair, and aggressive golf style.
I guess it also didn't hurt that the Great White Shark is the native coastal mammal of his birthplace. The Great White Shark brand initially became well known for its colorful Shark logo on everyday Golf Apparel. Over the years, the brand has now evolved into a multinational corporation that is comprised of several different companies and divisions.
Some of these include Greg Norman Golf Course Design, Greg Norman Wine Estates, Greg Norman Australian Prime, Greg Norman Production Company, Greg Norman's Australian Grille, as well as many other merchandising and licensing initiatives.
The Golfer
Greg Norman was born in Mount Isa, Queensland, Australia to a blue collar family. Norman's mother was a fine golfer with a single figure handicap, however, Norman did not begin to play Golf until the age of 15. Within two years Greg began playing with a scratch handicap and at age 20 served as assistant professional under Billy McWilliam OAM at Beverly Park Golf Club in Sydney, New South Wales.
Greg's professional career had begun as Charlie Earp's trainee in the Royal Queensland Golf Club pro shop, earning $38 a week. From the days in 1975 when he made $38 a week working as a trainee in the Royal Queensland golf shop, Norman has earned more than $1 million five times on the U.S. PGA Tour, including three Arnold Palmer Awards as the Tour's leading money winner in 1986, '90 and '95.
Professional Career
He was also the first person in Tour history to surpass $10 million in career earnings. In total, Norman has won 91 professional events around the world, including 20 U.S. PGA TOUR titles. He has 29 top 10 finishes in Majors (Masters Tournament, U.S. Open, British Open, PGA Championship), or more than 38 percent of those he has entered. Greg Norman is admired equally as a sportsman and businessman. He learned long ago that the game of golf could be a platform for something even greater, and he has transcended the game to become arguably the most successful athlete-turned-entrepreneur in history.
Source: Brett Shoemaker
Organo Gold Top Earners

– The est. earnings are as follows:
[private_platinum]
[/private_platinum]