LifeVantage Awards 55 Jeeps To Top Distributors
August 19, 2013
By Team Business For Home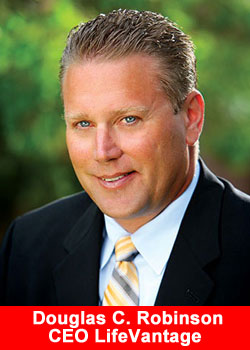 Fifty-five customized Jeep Wranglers are changing lives from Hawaii to Florida, Oregon to Arizona. Keys and clear titles to these symbols of freedom were presented recently to a variety of young, old, employed and retired individuals at a Denver event of Salt Lake City-based global network marketing and healthy-living products company LifeVantage Corporation.
The 55 Jeeps are the first to be awarded to the company's top-performing independent distributors as part of a new program called My LifeVenture..
The My LifeVenture program reflects our company's culture of promoting self-fulfillment, expanding personal horizons and seizing life's adventure, says LifeVantage President and Chief Executive Officer Douglas C. Robinson.
As a network marketing company, we have attracted some 65,000 individuals to market our science-based, healthy-living products as independent distributors in the U.S., Asia and beyond. Our products, like Protandim(R), the Nrf2 Synergizer(R) patented dietary supplement, are distinguished by impressive scientific research; our distributor training and support is the best in the industry.
But we wanted to establish a new benchmark for distributor recognition and reward. Giving away Jeep Wranglers – vehicles that embody freedom, adventure, family and fun – makes this exciting new program totally unique and utterly appropriate for our healthy-living mission.
Distributors who qualify for Jeeps don't simply get the keys and the right to pick their custom accessories; they're enrolled in the My LifeVenture experience – an endless calendar of special adventures, like caravanning up Pikes Peak, Colorado, in late July, and exploring Coeur D'Alene, Idaho in August. Some of the excursions will be designed to leverage the Jeeps' free-wheeling, off-road capabilities, while others will showcase the smooth ride on open highways, but all will provide memorable bonding opportunities for everyone involved.
The impressive anti-aging research that supports LifeVantage's products has always been a powerful tool to recruit distributors and customers for Protandim, TrueScience(R) Anti-Aging Cream and LifeVantage Canine Health, says Tyler Daniels, one of LifeVantage's top distributors and a resident of Richfield, Utah. But the decision to become a distributor goes beyond the products. We're drawn to this company by the culture it promotes – integrity, family and improving the lives of others – and the freedom from financial concerns that it delivers.
Daniels, who took delivery of his super-accessorized Jeep in Denver, says, The vehicle is not just an end, it's a means – to encourage our LifeVantage families to seize the day and get the most out of life. It's also an important tool to inspire our newer and future distributors to go the extra distance in marketing LifeVantage's remarkable business opportunity and products. My LifeVenture is like no other program in the network marketing industry.
An up-and-coming LifeVantage distributor, teenager Dillon Delaney of Tucson, Arizona, offers another perspective. The Jeeps are awesome; they appeal to the younger generation because they represent fun and adventure, Delaney says. I started representing LifeVantage because I believed in their products. I was blown away by all the lives that LifeVantage and its distributors had changed. I've grown my business rapidly for a little over a year and I'm already enjoying a substantial cash flow. The new My LifeVenture program, he says, has put me into overdrive. Taking title to a Jeep, customized to my own specs, will be a dream come true.
Vehicles have been used in other companies' programs, but they usually come with strings attached, such as leases or revocation clauses for failure to maintain sales volume. Giving clear and permanent title to cars is a unusual incentive, Robinson notes. It's our way of celebrating and helping to fulfill our Elite-level distributors' personal and professional dreams.
LifeVantage was recently named one of Utah's fastest growing companies by Utah Business Magazine. Its independent distributors live throughout the U.S., Canada and Asia. LifeVantage is the world's 61 largest direct selling company, according to Direct Selling News.
About LifeVantage
LifeVantage Corporation, a leader in Nrf2 science and the maker of Protandim(R), the Nrf2 Synergizer(R) patented dietary supplement, TrueScience(R) Anti-Aging Cream and LifeVantage Canine Health, is a science based nutraceutical company.
LifeVantage is dedicated to visionary science that looks to transform wellness and anti-aging internally and externally with products that dramatically reduce oxidative stress at the cellular level. The Company was founded in 2003 and is headquartered in Salt Lake City, Utah.
Lifevantage Top Earners est. earnings are as follows:
[private_platinum]
[/private_platinum]