Amway Plans To Feed 1 Million Malnourished Chinese Children
September 30, 2013
By Team Business For Home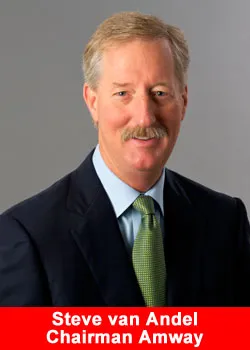 Amway plans to double its support of a program in China that feeds the country's malnourished children living in rural villages.
Amway China, through its Amway Charity Foundation, announced a Commitment to Action at the Clinton Global Initiative Annual Meeting in New York that will bring 2,000 "Spring Sprouts Kitchens" to rural schools in the next two years, ensuring 1 million Chinese children have access to nutritious school lunches.
Amway didn't share how much the charitable arm of the Ada-based multi-level marketing giant was spending on the program. But the group spent $8 million last year to build and staff 1,000 kitchens in central and western China to feed 500,000 children a day.
While the Chinese government mandates school attendance for children and provides food stipends for each student, there are few measures in place to ensure that these funds are used to feed these children and improve their nutritional outlook, said Audie Wong, president of Amway China and executive vice chairman of the Amway Charity Foundation.
"School buildings often have no kitchen facilities, so millions of rural Chinese children are malnourished, said Wong, in a statement. Spring Sprouts Kitchens are the result of a unique public-private partnership to solve this problem — ensuring rigorous compliance with stipend standards as well as a focusing on healthy, nutritious meals to improve the nutrition of these children."
The Commitment to Action builds on the Spring Sprouts Kitchens that currently serve 754 rural schools and 377,000 students in 13 of the provinces that are home to the majority of the country's 61 million left-behind children, many millions of whom are malnourished. Ongoing nutrition education is provided for staff, children and families.
The program will hire, train and monitor kitchen staff; source local food; and provide balanced, nutritious, daily lunches for 1 million children in first through ninth grades.
But this is only the beginning. We hope other Clinton Global Initiative members will join us to expand the reach of the program to reach more of the tens of millions of children who need access to healthy, nutritious food through their schools, Wong added.
In addition to the 1 million children to be served by this CGI Commitment to Action, more than 420,000 sustainable new jobs will be created and 15,000 farmers or small-scale producers will find a market for their fresh meats, eggs and vegetables based on food requirements of the Spring Sprout Kitchens.
China is Amway's biggest market, with 300,000 distributors, according to a Bloomberg report. Nearly 40 percent of parent company Alticor Inc.'s $11.3 billion in global revenue last year was made in China