ViSalus Sets Sights On Aggressive Growth In Latino Market
September 25, 2013
By Team Business For Home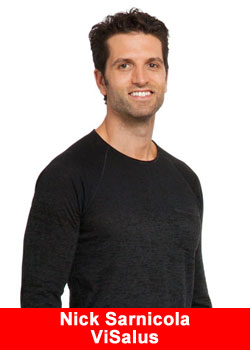 ViSalus, Inc., the company behind the #1 90-day weight-loss and fitness platform in North America, and home of top earners Nick Sarnicola, Tara Wilson, Rachel Jackson among others, announces the launch of their month-long campaign designed to increase health awareness and reach out to charities in the Latino community.
To celebrate Hispanic Heritage Month on a mass scale, ViSalus featured an advertisement in USA Today's The Hispanic Heritage: Celebrating a Culture September issue, showing how the Body by Vi Challenge is transforming lives—especially those within the Latino market.
The ad, spotlighting Body by Vi Challenge Champion Leticia Christen, attracted national attention on how ViSalus Latino Promoters are impacting Hispanic Americans' health, family and community.
As a tribute to Hispanic Heritage Month, ViSalus will assist underserved Latino communities through eligible charities, and will also leverage PROJECT 10 Kids to donate Vi-Shape Nutritional Shake meals to children in need. This means an entire month of nutritious breakfast, lunch or snack options that will contribute to children's health.
The obesity rate for Hispanics this past year exceeded 40%*, and this ethnicity begins to account for more of the U.S. population than ever before,
said Nate Dominguez, ViSalus' Director of Latino Strategy.
We feel compelled to face this challenge head on and help. This means recognizing the importance of the family unit and its surrounding community as a potent vehicle for delivering our message. We want our values of Life, Health, and Prosperity to resonate with the Latino community and reverse the upward obesity trend among Hispanics. Now is the time to take care of our loved ones.
This month, ViSalus is holding Regional Success Training (RST) sessions in Hispanic-rich Florida and Southern California in addition to expanding its community outreach programs to the Latino population and charitable organizations. The company's main focus until the end of Hispanic Heritage Month (mid-October) will be to introduce as many Latinos to ViSalus' healthy food products and nutritional options.
It is very exciting to lead this movement in changing the way Latinos view and approach healthy living, said Dominguez.

With each transformation success story we receive, the more resolved we are to commit to truly take weight off the world.
About ViSalus
ViSalus is a healthy lifestyle company that is dedicated to Taking Weight Off The World. One person at a time. 10 lbs. at a time. Founded in 2005, ViSalus develops quality weight-management products and nutritional supplements that it markets and sells direct-to-consumers through an international sales force of independent promoters.
ViSalus markets its products in North America under the ViSalus® brand, and in the United Kingdom under the Vi™ brand through the Body by Vi Challenge™. ViSalus is headquartered in Los Angeles, California and Troy, Michigan and is majority-owned by Blyth, Inc. (NYSE: BTH).