Top Earner Onyx Coale Joins It Works! Global
October 7, 2013
By Team Business For Home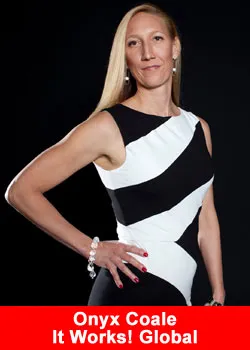 Onyx Coale, one of the highest paid women in the MLM industry 2 years ago, devoted a year time-out to be with her children in South Florida after she sold her MonaVie business.
Onyx was contacted by many companies to work with them and approached by distributors, marketing staffs and even CEOs.
Even though she turned down all but one, she was excited by the new connections and friendships she made in the process of reviewing companies.
Company distributors, staffs and CEO's traveled to meet with her in South Florida instead of she traveling to them, which was important to Onyx as her hiatus focus was her children.
Onyx has always been passionate about health and wellness. Wellness enhancing products are part of her success formula.
It Works! Global won her heart and Onyx decided to team with them. It Works! Global has experienced a 3-year growth of 1,047%. The debt-free company made #436 in Inc's "The 2013 Inc. 5000 List" of the fastest growing privately held companies.
Home of top earners as Kami and Nathan Dempsey, Madra Meystedt Jones and Tiffany Passick among many others.
I am thrilled to be back in the field again,
living my passion for helping people – Onyx Coale –
When our reporter asked Onyx Coale why she choose It Works! Global, Onyx shared her Rubik's Cube Formula to make her decision
My first consideration is team members and customers, the company she need to have proven, successful offline and online business building systems.

Mothers and fathers no longer want to leave their children and spouses, five to six nights a week, as the only way to successfully build MLM home based businesses. Women and men want the option of being able to succeed working their businesses from home
Onyx looked for a business building system that was truly duplicable, both online and offline. In an age of online marketing, in addition to a successful online business building system, Onyx wanted the company she teamed with to have a solid offline business building system. Why?
So distributors could enjoy the benefits of real face-to-face connections and communities, if they so desired. Easy access online video training to quickly educate new distributors on simple to understand and implement success steps is a must.

I prioritize training that provides both the newest person sponsored and someone joining the team eight levels deep the same access to training, information, support and a proven, successful business building system.

I love customer centric companies with more customers buying company products than distributors building businesses.
It Works! Global, she explains, has a 7:1 customer to distributor ratio. It's customers continue to purchase products for an average of 7.2 months. The company offers wholesale pricing to customers who agree to purchase for three months. Customer centric was part of the formula Onyx Coale needed to see in the company she chose to team with.
Our reporter asked Onyx Coale if she viewed the It Works! Global compensation plan as top heavy or bottom heavy,
It is a middle heavy pay plan. Instead of a sole top earner, there are several top income earners sharing the field and additional opportunities for new up-and-coming income earners.
It Works! Global has individuals who are various ages, backgrounds and experience levels — a number new to network marketing — earning 7-figures and 6-figures annually.

Although It Works! Global is a female centric business, men are successfully building their businesses offline, online or as talent scouts developing teams. In addition to the business aspects of It Works! Global.
Onyx has also partnered with an IT expert who she believes brings a perfect balance to their team. Her vision includes working with their team and It Works! Global to achieve her goal of become a billion dollar organization. When asked Onyx what she would do differently with "It Works! Global" than she has in the past, she stated:
I will be building more on-purpose — focusing each team member on the proven path for success.

I believe my leadership style proved wildly successful in my past MLM, and that leadership style is called situational leadership.

Often times, people have timing issues or personal issues that need sorting through, before they can build businesses.

I believe in meeting team members where they are at and allowing them opportunities to fly and become magnificent leaders in their own rights.
Onyx Coale's on-purpose focus has resulted in reaching Double Diamond level in just four weeks. As team leader, Onyx's excitement is found in guiding the team to develop one Diamond level distributor leader, three Emerald level distributor leaders, and four Ruby level distributor leaders in the first four weeks.
Indeed, in speaking with Onyx, she is in her element doing what she loves most — helping others.
Contact details Onyx Coale: