Kelly Bangert Newest Diamond At Jeunesse
November 24, 2013
By Tina Williams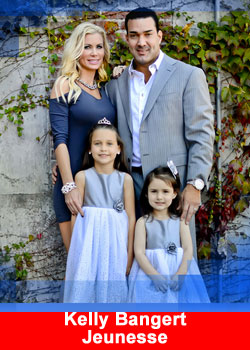 Kelly Bangert is no stranger to hardships. Raised in a poor family but driven by hunger and ambition he has overcome many obstacles.
At 21 years of age he was hired as a police officer in Southern California. That same year he started his first business in the construction industry — a business he owns to this very day.
At 28 Kelly was injured in the line of duty and medically retired from the police department. This was his first taste of residual income. He has received a tax free check ever since then. His early retirement from the police force did not stop him from developing new business initiatives.
When Kelly turned 29 he founded his 2nd business manufacturing protective coatings for floors. At 33, Kelly launched a third company in mortgaging. He was thriving. Kelly was finally savoring the fruit of his tireless labor. His dreams were coming true.
I love nearly everything I worked so hard to achieve. I was devastated.
In 2007 that all changed. The real estate market collapsed overnight and everything Kelly had earned was slipping through his fingers. Kelly was distraught, in just months he lost most of his business. When he received a call from a friend who spoke to him about an opportunity in network marketing, Kelly was skeptical.
[private_platinum]
Kelly had been a business for many years, but this kind of venture was new to him. Network marketing had certainly earned a bad reputation in the past and he didn't want to waste any more time or money.
From humble beginning to unprecedented success.
After much resistance Kelly decided to join Network Marketing and treat it just like a traditional business. Soon, he became a top distributor. In 2012 he became a search for more lucrative opportunities and he found them in Jeunesse. He instantly loved everything about Jeunesse. From the owners and the financial rewards plan to the global platform and the products.
He was happy to be a part of something truly great. Kelly treasures Randy and Wendy for their amazing support and admires them for their incredible opportunity they have given to thousands of fortunate people all around the world.
I am only as good as my team and I wouldn't be here without them

[/private_platinum]