Talk Fusion Highlights Giving Back with First Video Newsletter Contest Winners
November 20, 2013
By Team Business For Home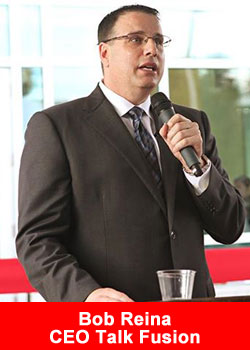 Talk Fusion has announced the first winners in its Free Custom Video Newsletter contest.
Talk Fusion, home of Top Earners, Minh and Julie Ho, Vjacheslav Ushenin, Svetlana Shodunke, Rob Roder, and Artur Kachanov among many others.
The first two recipients in the promotion—which asks the company's Customers and Independent Associates to explain how they would use a Custom Video Newsletter Template to engage their audiences—both use Talk Fusion's video communication products to help increase the quality of life of individuals worldwide.
The first winner is Elizabeth Salaman of the U.K., whose organization Women for Conservation helps women in rural Colombia by teaching them to make jewelry from sustainable local materials, giving them an income while raising environmental awareness.
The second winner, fellow U.K. resident James Bond, is a certified fitness trainer and medical doctor dedicated to combating obesity and promoting a healthy self-image and lifestyle.
These first two winners in Talk Fusion's ongoing Custom Video Newsletter incentive were chosen for the originality of their entries, as well as their passion for giving back. More winners will be awarded their own, free Custom Video Newsletter Template—designed to order from Talk Fusion's Art Department, at a value of $750 USD—in the coming weeks. All Talk Fusion Customers and Independent Associates are encouraged to enter.
"We are very proud to showcase our first two Custom Video Newsletter Template winners," says Talk Fusion Founder & CEO Bob Reina. "They exemplify our commitment to changing lives, and we are looking forward to recognizing many more worthy Associates and Customers, and awarding them their own free Video Newsletter Templates."
Since their release in November of 2012, The World's First Video Newsletters have helped redefine the way businesses, charitable organizations and individuals alike brand and express themselves online.
ABOUT TALK FUSION
Talk Fusion is a rapidly growing global company dedicated to changing lives through providing cutting-edge personal and business Video Communication Products and a lucrative business opportunity. Talk Fusion's innovative products are marketed person-to-person by Independent Associates in more than 140 countries.
The company was founded in 2007 by CEO Bob Reina and introduced the world's first Instant Pay Compensation Plan. Talk Fusion adheres to the highest ethical business practices and is a member of the prestigious Direct Selling Association (DSA). Reina firmly believes that "with great success comes greater responsibility."
To that end, his commitment to giving back has benefited numerous charitable organizations. Learn more about us at www.TalkFusion.com, www.talkfusiongivesback.com and www.talkfusioninthenews.com and "Like" Talk Fusion at www.facebook.com/TalkFusion.