Herbalife One Step Ahead Of Bill Ackman
December 17, 2013
By Tina Williams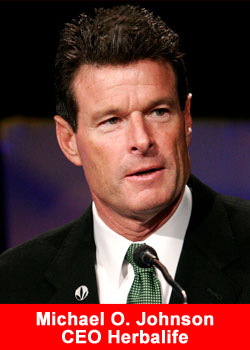 Forbes magazine published an article Monday about the continued battle between Bill Ackman and Herbalife.
Bill Ackman's Herbalife nightmare is getting worse. On Monday, the nutritional supplements company announced its new auditor, PricewaterhouseCoopers , completed a re-audit of its financial statements for 2010 to 2013 without making any "material changes." Billionaire Carl Icahn took to the media to blast Ackman once again, as shares in the company surged more than 12% in minutes.
Herbalife was forced to change its auditor earlier this year after a former partner was found to have been involved in insider trading on the company. KPMG, Herbalife's previous auditor, resigned after ex-partner Scott London was found to be leaking insider information to Bryan Shaw, who reportedly made more than $1.2 million trading on that information.
Over the past year, Wall Street has paid a lot of attention to the nutritional supplements company, as it became a hedge fund battleground stock. Toward the end of 2012, billionaire Bill Ackman of Pershing Square came out with a scathing presentation on the company, accusing it of being a pyramid scheme. After initial declines, the stock has gone on an impressive rally, particularly with the backing of billionaire heavy weights like Carl Icahn and George Soros, and Dan Loeb.
While the re-audit of its financials isn't directly tied to Ackman's claims that the company is running an abusive pyramid scheme, the stock's jump in the aftermath of the release indicate investors are more confident in Herbalife's prospects after having PwC vouch for its financial disclosures. Shares in the nutritional supplements company are up more than 112% this year, dramatically outperforming the market. In a statement, Ackman's Pershing Square noted it's not the auditor's role to determine whether Herbalife is a pyramid scheme, and reiterated the company will be shut down by regulators.
The involvement of several high-profile investors in the Herbalife trade has opened a rare window into Wall Street's generally private feuds. After Ackman's presentation, Carl Icahn chose to come out and call the situation the "mother of all shorts" in what became a very public live-TV brawl between the two billionaire hedge fund managers. It wasn't just Icahn, though, even Third Point's Dan Loeb publicly ridiculed Pershing Square's chief.
Monday's announcement delivers another blow to Ackman's portfolio, who claims he's in it for the long haul and expects regulators to eventually shut the company down.
The article continues on Forbes