Network Marketing Powerhouse C. Anthony Harris Joins ViSalus
December 24, 2013
By Tina Williams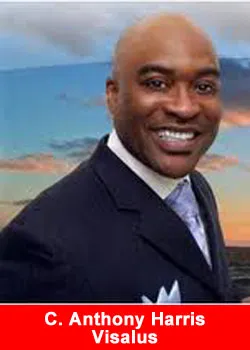 C. Anthony Harris announced today that he has joined the Promoter ranks of the Vi Community. ViSalus, Inc. is the company behind the #1 90-Day weight-loss and fitness challenge platform in North America.
Harris and ViSalus were, in many ways, destined to be together. It was a match that took 16 years to align, but not for lack of opportunity. Harris first met ViSalus Co-Founders Nick Sarnicola and Blake Mallen when they worked together at their first network-marketing company.
When the trio ended their tenure together nine years ago, Harris moved on to become a top earner at another network marketing company while Sarnicola and Mallen started ViSalus. They have stayed in touch ever since.
Harris' career is relatable to anyone who has ever had the desire to be their own boss. Eighteen years ago, at the age of 33, with a solid career in place, Harris was not satisfied with his job as a systems analyst for the federal government and turned to network marketing as his exit strategy.
He found solace in his mentor's advice to stay the course, believe in the product, and copy the habits of other successful people. He grew his team to a massive 200,000 people over the past nine years, which culminated in 15 of his team members achieving million-dollar annual revenues and thousands of others to make a solid full-time income.
Sarnicola, who currently leads the Promoter field as a ViSalus Global Ambassador, had been trying to get Harris to join ViSalus for years. C is one of my closest friends, and I can't express how excited I am to have not just a friend, but also a top industry leader join us, says Sarnicola. He will challenge not just me but the entire organization to achieve even higher levels of excellence.
I just felt the timing was now, says C. Anthony. I'm a very passionate person and I'm not a gypsy, so joining ViSalus was an extremely important move for me, my family and our future. I've been using the product for a long time and love the quality and selection. The future of ViSalus is so strong, and while this is a new direction for me, Nick is the only person on the planet I trust enough to guide us on this journey.
ViSalus owes much of its success to its family-friendly environment that focuses on having fun while supporting good nutrition in local communities. We are excited that C is on board. We have an incredible history together, and our combined energy is going to excite the entire Promoter field, says Blake Mallen, ViSalus Co-Founder and CMO. C is proof that challenging yourself while believing you have the power to make a difference, can fuel unrestricted success. This next year is going to be incredible.
For more information please contact C. Anthony Harris at CAnthonyHarris@cox.net.
About ViSalus
ViSalus, Inc.is a healthy lifestyle company that is dedicated to Taking Weight Off The World.(TM) One person at a time. 10 lbs. at a time. Founded in 2005, ViSalus develops quality weight-management products and nutritional supplements that it markets and sells direct-to-consumers through an international sales force of independent promoters.
ViSalus markets its products in North America under the ViSalus(R) brand and in the United Kingdom under the Vi(TM) brand, through the Body by Vi Challenge(TM). ViSalus is headquartered in Los Angeles, California and Troy, Michigan and is majority-owned by Blyth, Inc.