Larry And Doni Smith Are Legal Shields' Newest 500k Ring Earners
January 23, 2014
By Tina Williams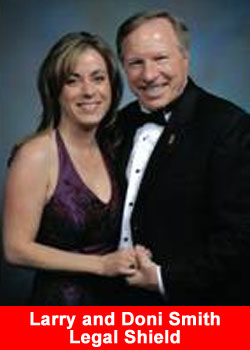 Legal Shield is honored to recognize Larry & Doni Smith of Glendale, Arizona for earning the $500K Ring.
Earning this level of the Ring has activated the opportunity to earn up to $100,000 in Rise to the Ring bonuses.
LegalShield extends congratulations on this achievement and wishes continued success in the Rise to the Ring program.
To earn the 500k ring an associate must earn $500,000 or more within 12 consecutive months.
Larry Smith writes: What an incredible company and opportunity LegalSheld is for everyone! Both of us had been downsized from Corporate America and were looking for an opportunity when we discovered LegalSheild. Larry started in 1996 and Doni started in 1997. Then they found each other! And what a blessing it has been! Inducted into the Inaugural Millionaire's Club, Larry and Doni are Arizona's #1 Money Earners and thoroughly enjoy working with the phenomenal leadership in this state!
LegalShield is an American corporation that sells legal service products through network marketing in the United States and Canada. The company was originally founded August 8, 1972 as the Sportsman's Motor Club. In 1976 it was incorporated as Pre-Paid Legal Services, Inc., and made its initial public offering in 1984. Pre-Paid Legal Services, Inc. was acquired by MidOcean Partners in 2011 and changed its name to LegalShield.
LegalShield develops and markets pre-paid legal service plans through a network of more than 50 independent provider law firms across the U.S. and Canada. The Company also markets an identity theft monitoring and restoration services through its partnership with Kroll Inc. The company's service plans are sold through network marketing. Products are also sold as an employee benefit through payroll deduction. The company has legal service plans for small businesses as well advertised with NFL Hall of Fame player Fran Tarkenton as spokesman.