Barry and Sarah Midthun – Nerium Hit National Marketing Director
February 14, 2014
By Team Business For Home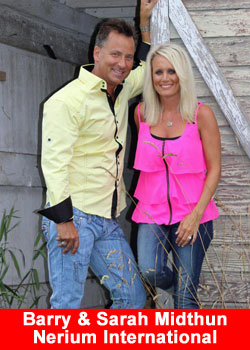 Barry and Sarah Midthun: "Starting with only 4 personals and building from scratch again seemed like a daunting task, but as our team broke new ranks, using our 10+ yrs of relationship building experience, and the amazing fact of how hot Nerium anti-aging is in the marketplace we never skipped a beat."
"It helped that Nerium has a similar comp plan as our previous company, but on steroids…quickly replacing in 45 days the 6 figure check (and more) we walked away from."
"We quickly found out that NeriumAD is a real scientific breakthrough in anti-aging that is the "bullseye" of the massive beauty industry," said Sarah.
"The clinical testing used by the independent labs is second to none…this is indisputable. We were absolutely sold on the products after we took the 5 day Nerium experience.
The masses love the product and have produced incredible before and after pictures. We have more personal customers now than we have ever had."
They discovered that Jeff Olson is one of the most respected leaders in the direct selling industry (world-wide) and is known as the Millionaire Maker. he back office was the most social they had ever seen and it became evident to the Midthun's on how he trains and duplicates so easily.
Being just over 2 years old but already winning the Bravo Award for the fastest growing MLM in the world is simply—AMAZING.
Being the only company ever to resupply inventory with both a "3 UR Free" program AND a "Nerium Gives Back" program where you earn free skin care every time you enroll new customers and Brand Partners is—BRILLIANT! "Never will our team have to buy inventory to stay active again!" says Barry.
Barry adds, "We salute all the Network Marketers working day and night to get ahead. Stay committed to your belief in the industry, stay committed to your why and the reason you get up earlier and go to bed later than the average person! Stay true to relationship building with honesty and integrity. Stay true to your dreams…no matter how long it takes to get there!"
Barry & Sarah can be reached at barrymidthun@yahoo.com.
About Nerium International:
Nerium International is one of the fastest growing companies in the Relationship Marketing industry. In 2013 they were honored with the Bravo Award for Growth from Direct Selling News. Nerium, Intl. raised over $500,000 for Big Brothers Big Sisters in 2013 that placed them as the #1 contributors for the organization.
Nerium has been featured in several media outlets to include beauty blogs, television and publications. Nerium is passionate about empowering the Brand Partners success with personal development, state of the art business building capabilities and a unique program of free inventory called Nerium Gives Back.
Jeff Olson, CEO has an industry-wide reputation of success and leadership. He has been a top distributor in several companies, building multimillion-dollar sales teams.