Darin & Cheryl Kidd Earn a $250,000 Bonus With Nerium Intl
March 14, 2014
By Tina Williams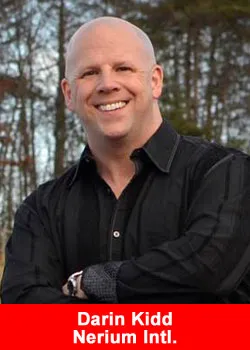 Darin & Cheryl Kidd are 5 Star National Marketing Directors from Virginia. They have made over $1 Million Dollars in their first 2 years with Nerium and are now making over $70,000 a month.
Fifteen years ago they were college dropouts, bankrupt, on medicaid and living in a small town. They had never had success in the industry until they met Jeff Olson, who's name in the network marketing industry is The Millionaire Maker. Darin says, I remember the feeling of not having any hope and feeling like a total failure in life when I couldn't feed or support my family. Thank God someone looked at us NOT as how we were, but how we COULD be with our God given potential! What motivates us now is helping others realize they can have more, do more, and be more. We love helping people! We also LOVE to have FUN! We can't wait to get up every day and see who we can help and serve.
They see Nerium as the perfect storm. Nerium has the right leadership with true breakthrough products in the right space that are backed by real science and clinical trials. The systems that are in place allow people to build a full time income on a part time basis, along with a phenomenal compensation plan with the right business drivers. Icing on the cake is the ability to earn your product for free, along with free unlimited inventory, I-pads, Lexus bonuses, and luxury trips.
Since venturing into network marketing, they have been stay at home parents to five kids and have become multimillionaires in the industry. They love the fact that they no longer have to work their life around a job but can work their business around their life. They feel blessed to have found true financial freedom and time freedom.
To contact Darin: darinkidd@gmail.com.
Or link up with Darin on FB at: www.SucceedwithDarin.com
Nerium International is one of the fastest growing companies in the Relationship Marketing industry. In 2013 they were honored with the Bravo Award for Growth from Direct Selling News. Nerium, Intl. raised over $500,000 for Big Brothers Big Sisters in 2013 that placed them as the #1 contributors for the organization. Nerium has been featured in several media outlets to include beauty blogs, television and publications. Nerium is passionate about empowering the Brand Partners success with personal development, state of the art business building capabilities and a unique program of free inventory called Nerium Gives Back.
Jeff Olson, CEO has an industry-wide reputation of success and leadership. He has been a top distributor in several companies, building multimillion-dollar sales teams.