Herbalife Launches Website to Improve Image
March 27, 2014
By Tina Williams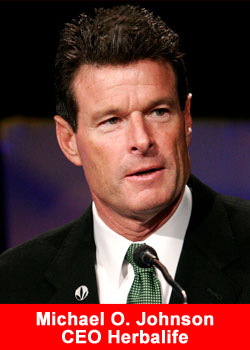 Herbalife recently launched a website iamherbalife.com that will detail its business practices to counter false claims against the company; guarantee standards given for customer protection and also feature the experiences of people across the U.S. who have used Herbalife products through customer feedbacks and member testimonials.
The weight loss and nutrition company, through its new website, intends to address the fallacy created by activist investor William Bill Ackman, hedge fund manager of Pershing Square, who has accused the company of running a pyramid scheme.
Herbalife recently received a Civil Investigative Demand from the U.S. Federal Trade Commission for investigating its operations, primarily the result of a persistent push by Ackman to investigate the company's operations. The company welcomed the inquiry and stated that it will co-operate with the investigation as it is confident that its operations comply with all applicable laws and regulations.
Over the past 14 months, Ackman has been claiming that Herbalife is making money by recruiting new sales people and not from its sales. Ackman made that claim in Dec 2012 when he unveiled a $1 billion short position in the company's shares.
On Mar 12, the billionaire investor told his clients that Herbalife is likely violating multi-level marketing restrictions in China, as per media reports. Earlier in Jan 2014, First Financial Daily, a Chinese newspaper also suspected that Herbalife adopted illegal marketing practices in China. Later in Jan, the Canadian Competition Bureau announced a formal investigation into the pyramid scheme business model complaints against the company, as per a report by New York Post. In Dec 2013, Ackman even sent a letter to its investors about the improper recruiting methods adopted by Herbalife. Reportedly, Ackman tried to lobby Congress members to push for an investigation against Herbalife by state and federal regulators, especially the FTC.
Herbalife, on its part, has been denying the charges since 2012. It stated that its business model complied with Chinese direct-selling and anti-pyramid regulations. Carl Icahn, the company's biggest shareholder with a 16.8% stake, also supports Herbalife in its fight against Ackman.
To counter the attacks by Ackman, Herbalife has recently planned to nominate three designees of Icahn to Herbalife's board, taking the total count to five. The move will strengthen the company's board and help it to defy false claims.
Herbalife, through its website, wants to redeem its image, which has taken a beating in view of the misrepresentations made by Ackman since Dec 2012. Herbalife even came out clean in Dec 2013 when its UK-based auditor PricewaterhouseCoopers (PwC) completed the re-audit of more than three years of financial statements and found no material changes in them. Moreover, despite allegations and numerous attacks on its multi-level marketing model, the company's earnings continue to increase.