Top Earner Holton Buggs Speaks Out: How To Build A Huge MLM Business
March 19, 2014
By Team Business For Home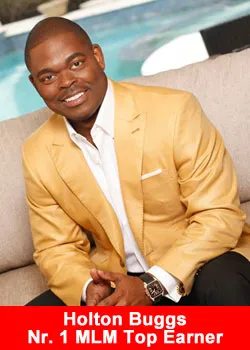 At Eric Worre's recent Go Pro Recruiting Mastery event, the present Nr. 1 Top Earner in MLM, Holton Buggs gave a stellar presentation on how he built a business that earns him over $1 million dollars a month.
In this exclusive excerpt, he talks about his first two week launch.
A Must See for both professionals as for newbies.
About Holton Buggs:
Some look at my success today and feel that I must have been lucky or born into what I have. However, I still clearly remember growing up as a child in the Ponce De Leon projects in Tampa, Florida, watching my mother work multiple jobs to take care of me.
Just like many children of single parent households I was dropped off at daycare run by the neighborhood baby sitter.
During those days the only qualifications for someone to have a daycare were a roof, electricity and food. There were no special educational, sanitary, or student to teacher ratio guidelines like today. The lady who kept me had a high school level education and earned less than $1500 a month.
She was a good person, but given the fact that I learned more about who died and came back to life on all the popular soap operas, rather than how to count, read, or write, she wasn't the most ideal person to be watching children at the beginning of their learning years.
But my mother had to do what she had to do. Even though she knew I wasn't in the best environment, she'd always uplift me by telling me. As a result, instead of taking the sitter's words at the daycare and growing up to be a big chicken in the coop, I decided to take my mother's words and create a way to soar like an Eagle.
Environment is everything, so in school I created an environment for me to be a provider. When I was 14 years old I cut hair to make money, then got tired of doing all the work myself and discovered leverage by buying candy in bulk and recruiting people to sell it for me. One of the 12 people I recruited was Earlene Lilly, who is now Earlene Buggs, my wife and best friend.
Source: Holton Buggs website