Empower Networks' David Sharpe Steps Down
April 20, 2014
By Tina Williams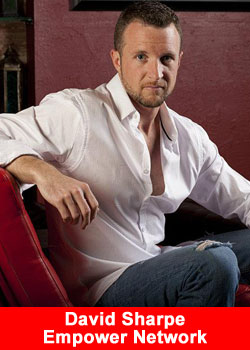 Due to personal health reasons, David Sharpe, co-founder and president of Empower Network has stepped down from his position. In a message to Empower Network affiliates on his Facebook pages, he shares:
The company has never been stronger. The infrastructure is solid, because we've worked very hard the last 2.5 years to build it that way. Dave Wood and CEO Jonathan Cronstedt are fully capable of leading this company into the next phase of growth.
With that, I'm confident my departure will in no way cause any issue with the company continuing to grow on the path it's been on since it launched.
Empower Network hosts one of the largest blogging communities and publishing platforms online in addition to providing educational and leadership training products and services to online marketers and start-up, home-based and small businesses. Empower Network offers a program through which affiliates can earn commissions off the sales of Empower Network products.
Headquartered in St. Petersburg, Fla., David Wood and David Sharpe founded Empower Network in 2011 to empower small-business owners to make money online without dealing with the technical, marketing, payroll and overhead challenges that frustrate many entrepreneurs and small-business owners. Empower Network's signature product is a viral blogging system geared toward helping its 38,000 affiliates and 80,000 active members use the Internet to grow their businesses online, taking them from disenfranchisement to full self-empowerment through the use of blogs, direct sales and online marketing.