Herbalife Announces $266 Million Share Repurchase Agreement
May 7, 2014
By Team Business For Home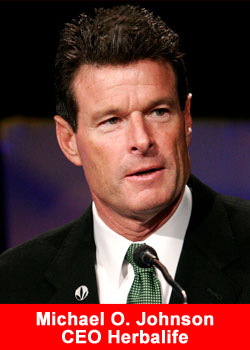 Herbalife (NYSE: HLF) today announced that it has entered into an agreement with Bank of America Merrill Lynch to repurchase $266 million of Herbalife's common shares.
As previously announced, as part of its goal to accelerate cash returns to shareholders, Herbalife's board of directors has approved terminating the company's quarterly cash dividend in support of repurchasing additional shares of the company's outstanding common stock during May and June 2014.
Under the terms of the repurchase agreement, today Herbalife will pay $266 million from the company's cash on hand and will receive a portion of the shares based on an Interim Share Delivery schedule, and the remainder upon completion of the program.
This share repurchase program underscores our continued confidence in the strength of our business and future cash flow generation, as well as our commitment to returning capital to our valued shareholders, said Michael O. Johnson, Herbalife's chairman and CEO.
Our strong financial position and the current market valuation of our shares make the repurchasing of our stock the most attractive use of our capital. As we have long demonstrated, Herbalife is committed to enhancing shareholder value, which includes approximately $2.85 billion in total share repurchases since 2007.
The total number of shares ultimately repurchased under the agreement will be determined based generally upon the volume-weighted average share price over the course of the program.
The transaction is currently expected to be completed by no later than the end of the second quarter of 2014. Shares that are repurchased will be retired.
Herbalife recently announced record adjusted first quarter 2014 results, and raised its full year 2014 adjusted earnings guidance, highlighting the strong sales growth and enhanced profitability that the Company continues to achieve. Importantly, Herbalife is well-positioned to continue to grow and play an increasingly important role in improving nutrition and reducing obesity around the world.
About Herbalife Ltd.
Herbalife Ltd. (NYSE: HLF) is a global nutrition company that sells weight-management, nutrition and personal care products intended to support a healthy lifestyle. Herbalife products are sold in more than 90 countries to and through a network of independent members. The Company supports the Herbalife Family Foundation and its Casa Herbalife program to help bring good nutrition to children. Herbalife's website contains a significant amount of financial and other information about the company at https://ir.Herbalife.com. The company encourages investors to visit its website from time to time, as information is updated and new information is posted.