Primerica Q1 Sales Up 9% To $324 Million
May 20, 2014
By Tina Williams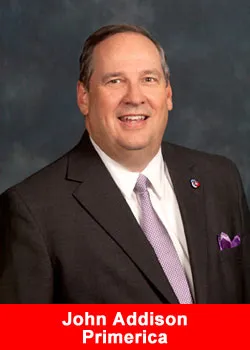 Primerica, Inc. announced financial results for the quarter ended March 31.
In a release on May 5, the Company noted that total revenues were $324.3 million in the first quarter of 2014 and net income was $45.1 million, or $0.81per diluted share.
Operating revenues increased by 9 percent to $324.1 million and net operating income increased by 12 percent to $43.3 million compared with $296.2 millionand $38.6 million, respectively, in the year ago quarter. Net operating income per diluted share increased 20 percent to $0.77 and ROAE was 14.9 percent in the first quarter of 2014. Solid operating results in the first quarter were primarily driven by growth in New Term premiums and strong Investment and Savings Products performance including 15 percent growth in ending client asset values.
Insurance and operating expenses increased as expected with growth in our business and reflect significantly lower expenses associated with the Florida Retirement System (FRS) matter compared with the first quarter of 2013. First quarter results also reflect lower net investment income highly correlated to our stock repurchases throughout 2013 and a lower yield on invested assets.
Consistent with our strategy to focus on core distribution competencies, in the first quarter of 2014 Primerica sold its short- term statutory disability insurance business (DBL) and discontinued marketing its student life insurance business, both of which were distributed through non-core distribution channels managed by our New York insurance subsidiary. Results from the DBL operations have been reported in discontinued operations, which are excluded from segment and operating results, for all periods presented.
Rick Williams, Chairman of the Board and Co-Chief Executive Officer said, We started the year strong with a 12 percent increase in net operating income led by a 29 percent increase in Investment and Savings Products net operating income. Diluted operating EPS grew by 20 percent, benefitting from 2013 share repurchases.
John Addison, Chairman of Primerica Distribution and Co-Chief Executive Officer said, We continued to see positive sales force trends with growth in the recruitment of new representatives, new life insurance licenses and the size of the life insurance licensed sales force compared with the first quarter a year ago.
Distribution Results
-The size of our life-licensed sales force increased 5 percent to 95,382 at March 31, compared with 90,917 at March 31, 2013. In the first quarter, recruiting of new representatives increased 4 percent to 48,306 and new life insurance licenses grew 4 percent to 7,447 compared with the year ago quarter. The percentage of license non- renewals and terminations in relation to the size of the sales force declined versus the prior year period. The size of our life- licensed sales force remained consistent with the fourth quarter. On a sequential basis, recruiting of new representatives increased 27 percent from 38,022, primarily due to seasonally slower recruiting levels during the fourth quarter. The lower level of fourth quarter recruits, many of whom are licensed in the first quarter, also contributed to the 12 percent sequential decline in new life licenses from 8,485 in the prior quarter.