Avon To Cut About 600 Jobs
June 25, 2014
By Tina Williams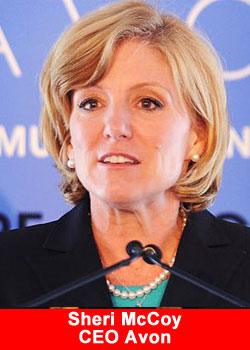 Cosmetics maker Avon Products Inc said it would cut about 600 jobs, including in its North America unit, as the company struggles to return to profit.
The direct seller of cosmetics, which has posted losses in five of the past six quarters, had about 36,700 employees, including 4,300 in the United States, at the end of December, according to its latest annual filing.
Avon will take a pretax charge of $45 million-$50 million, of which $40 million is expected to be recorded in the current quarter ending June, the company said in a statement on Monday.
The job cuts and other restructuring efforts are expected to result in annual savings of about $50 million to $55 million, Avon said.
The company is struggling to turn around its fortunes after a host of problems in key markets such as Russia, Latin America and the United States hurt profits.
Avon's net loss widened to $168.4 million, or 38 cents per share, in the first quarter ended March 31 from $13.7 million, or 3 cents per share, a year earlier.
Sales in North America fell 22 percent in the quarter as its products faced competition from inexpensive beauty items at drugstores or from chains such as Sephora.
The company also said in May that it would pay the U.S. government $135 million to settle a multi-year overseas bribery probe.
Avon's shares closed at $14.69 on the New York Stock Exchange on Monday. The stock has fallen about 15 percent in the six months to Monday's close.