Herbalife Responds To LULAC In Lengthy Letter
June 21, 2014
By Tina Williams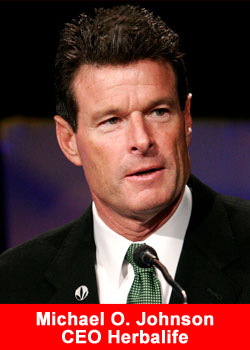 Herbalife Ltd. (NYSE:HLF) in it's letter, responds to the concerns raised by LULAC leader Brent Wilkes .
June 18, 2014
Brent A. Wilkes
National Executive Director LULAC
1133 19th Street, NW, Ste. 1000 Washington, DC 20036
Dear Mr. Wilkes,
I write to address your May 31, 2014 letter to LULAC's membership regarding Herbalife.
We at Herbalife Ltd. (NYSE:HLF) are proud of our presence in the Latino community and the role we play in helping people achieve healthier lifestyles through education and the use of our healthy and nutritious products. We also are proud of the business opportunity Herbalife provides to those who choose to earn part-time or full-time income. Indeed, our strong support in the Latino community is directly related to the widespread popularity of our products and the business opportunity we make available to those who choose to pursue it.
Herbalife Ltd. (NYSE:HLF) executives and representatives have met with you on three separate occasions. We have explained to you our industry-leading policies and procedures designed to protect Herbalife Members and consumers, and have responded to the issues you have raised during those meetings and elsewhere. Yet, in your letter you continue to state as "evidence" what are in fact misconceptions and unfounded, inaccurate allegations.
Because Herbalife strongly supports the general mission of LULAC and is closely aligned with that mission – indeed, we work hard every day to empower all our Members – I write to respond to each of your 9 pieces of purported "evidence." I note that much of the support for your claimed "evidence" is in fact inaccurate or based on data and sources that are a decade or more old. Rather than relying on such outdated and inaccurate sources, we hope that you will take the time to learn the true facts about Herbalife. We also encourage you to meet with our broad base of Members – over 550,000 in the United States alone – and hear from them regarding their overwhelmingly positive experiences with Herbalife. You will find that Herbalife is a responsible company that improves the lives of its customers, both Members and non-Members alike.
1. You suggest that Herbalife Ltd. (NYSE:HLF) recruits new Members through the use of "testimonials that regularly feature six and even seven figure incomes," and that Herbalife lacks sufficient disclosures about "the average net income that they can expect to make – information that we consider essential to anyone who is considering becoming an Herbalife distributor."
The majority of new Members join Herbalife primarily for the ability to purchase products they intend to use themselves, not to earn money. For those Members that do join for the business opportunity, Herbalife's disclosures are among the best, if not the best, in the industry. Our Statement of Average Gross Compensation goes above and beyond the level of disclosure you recommended in a prior letter to LULAC's membership on October 18, 2013. All Members certify that they have read and understand the Statement before they join. The Statement expressly explains that the vast majority of Members join primarily to obtain a discount on products for their own use and that most Members receive no compensation directly from Herbalife.
The Statement also discloses that for "the 13.6% of Herbalife Members who are Sales Leaders with a downline, the average compensation received from the Company in 2013 was (USD) 5,381." The Statement includes the caution: "There is no shortcut to riches, no guarantee of success."
Herbalife membership is low risk, offering both an easy entry and easy exit. The costs to join are minimal – as little as $59.50 for a membership pack that contains product with retail value that exceeds the price of the pack. Our Gold Standard Guarantee (https://opportunity.herbalife.com/the-gold-standard), provides a 90-day money back guarantee for the full cost of the membership pack, as well as a 100% refund (including return shipping costs) on unsold product purchased within the past 12 months if membership is resigned or not renewed for any reason. Included in each product order is a brochure communicating our Gold Standard Guarantee as well as a hotline for reporting any concerns or issues.
Herbalife Ltd. (NYSE:HLF) has always prohibited improper or inappropriate testimonials or income claims. Over the last 12 months, we have implemented several enhancements as additional steps to ensure testimonials are in compliance with the law. These enhancements include requiring all Member income claims and representations to include a disclaimer, upgrading the Member packets with additional disclosures, offering training to Members on claims and testimonials, and increasing headcount and resources to monitor income claims made on the web, at live events, or in Nutrition Clubs.
Importantly, independent third party research has confirmed that Herbalife's disclosures, training programs, compliance efforts and consumer protection policies are effective. New participants have realistic expectations when joining Herbalife: In one survey, 73% of former Members reported they joined primarily for a discount on products they intended to use themselves, while 23% were interested primarily in part-time income and only 4% were interested primarily in full-time income. Former Members surveyed are overwhelmingly satisfied with their Herbalife experience, with 63% reporting that they would recommend Herbalife's direct selling opportunity to a friend or family member, and 87% saying they would recommend Herbalife's products to a friend or family member.
2. You claim that Herbalife "apparently targets low income, often undocumented, Latinos" because between 60 to 83% of Herbalife's 525,000 U.S. distributors are Latino—4 to 5 times their representation in the U.S. population.
Herbalife Ltd. (NYSE:HLF) does not "target" any community in the predatory sense you imply. Herbalife is proud of the diversity of our membership. We welcome everyone regardless of age, race, ethnicity, national origin, language ability, disability, gender, religious beliefs, sexual orientation, veteran status, or any classification protected by federal, state or local law. Indeed, one of our company values is to make all of our communities stronger and healthier. We do this by providing quality products aimed at tackling difficult problems facing too many communities today, like obesity and diets that are poor in nutritional value. The strength of Herbalife within the Latino community is entirely organic; a result of overwhelmingly positive product experiences over several decades, both in the United Stated and in Latin America.
We want to empower all of our Members and their customers to live healthier lives and, if they choose, to take advantage of the direct selling business opportunity that a multilevel marketing business model, like that also used by Amway, Avon or Mary Kay, can offer. Herbalife's model rewards an entrepreneurial spirit and supports the development of successful Members, all while providing low risk and easy entry and exit for the business opportunity. An objective review of our performance shows this model effectively serves our Members and non-Members and is appropriately well-regarded in the Latino community. For example:
In addition to the profits made by individual Members from their own sales of our products, Herbalife paid approximately $180 million in commissions and bonuses to 33,602 self-identified Spanish-speaking Members in 2012.
Among Latino Members who operate Nutrition Clubs, 85% report that they break even or make a profit.
Among Latino consumers of Herbalife products, 85% rate Herbalife Ltd. (NYSE:HLF)'s product quality as good, very good or excellent.
We take pride in the support we receive from within the diverse communities we serve and from the leaders of those communities. As part of our continuing efforts to protect our Spanish-speaking Members and their customers, the Gold Standard Guarantee is also available in Spanish. (https://oportunidad.herbalife.com/es/estandar-de-oro). In fact, whether they are interested in the discount-purchasing opportunity or in the direct selling business opportunity, all new Members are required to review and acknowledge their understanding of the Gold Standard Guarantee. For Spanish-speaking Members, the Gold Standard Guarantee acknowledgment in the application process is also in Spanish. If you know of people with specific complaints, we request once again that you convey those specifics to us so that we can investigate immediately and take remedial action wherever appropriate. Individuals can also call our complaints hotline at 1-866-866-4744. We have processes in place to deter inappropriate conduct and will take action if we find violations of these policies and protections.
3. You suggest that "[o]nly 1 out of every 10,000 new distributors appears to make anything close" to the income "regularly" touted through Herbalife testimonials, and only do so by becoming "recruiting machines."
The vast majority of Herbalife's Members (73%) join primarily to obtain a discount on products for their own use. In other words, most new Members do not expect to earn a paycheck from Herbalife Ltd. (NYSE:HLF), and receive precisely the value they do expect and pay for – a great, high-quality product at a discounted price. Most of the rest of our Members expect only part-time income. They too receive the value of the product they purchase to enjoy themselves, and also have a low-cost opportunity to earn supplemental income.
No one is paid anything merely for sponsoring new Members, so we do not compensate any "recruiting machines." Rather, compensation is paid to Members solely based on product sales to their downline Members for their own consumption or to sell to others. This multi- level compensation opportunity is detailed in Herbalife's Sales & Marketing Plan, which is available to all Members as part of the membership pack, and online at www.MyHerbalife.com.
4. You suggest that "the company's own Statement of Average Gross
Compensation Paid by Herbalife to U.S. Members in 2013" is problematic because Herbalife discloses "that 88% of Herbalife's distributors earned no payments from Herbalife in 2013, and only 0.47% received more than $25,000 for the entire year gross."
As the Statement conspicuously discloses (and again as you fail to acknowledge), 73% of new Members joined primarily to obtain a discount on products for their own use. Additionally, third-party, independent research conducted by two leading research companies demonstrates that Herbalife has
millions of customers in the US, approximately 78% to 87% of whom are non-Members. Moneys paid by these customers directly to Members for product purchases are not reflected in the numbers you quote from the Statement. As mentioned above, Herbalife Ltd. (NYSE:HLF) fully discloses to entering Members all relevant aspects of the business opportunity, thereby empowering them to make decisions that are best for them. The excerpts from our Statement that you quote above are accurate so far as they go, but you again fail to acknowledge, as the Statement makes clear, that the moneys reported are only of payments from the company, and do not include profits made by Members from the retail sales of products to non-Member customers, or the economic benefit from a discounted price on products they purchase for personal and family use.
5. You suggest that, "[f]actoring in operating expenses, the vast majority of Herbalife's distributors appear to lose money even after working long hours, full time."
This statement is unsubstantiated, and is predicated once again on the false assumption that all Herbalife Members are interested in a full time business opportunity. As previously stated, the vast majority of Herbalife's Members (73%) join primarily to obtain a discount on products for their own use.
For those Members who do seek to build a part-time or full-time business, Herbalife Ltd. (NYSE:HLF) encourages them to have realistic expectations of the possible earnings potential. As described to all Members, the Herbalife business opportunity is like a gym membership: results vary depending on the time, energy, and dedication directed to it. Each Member seeking part-time or full-time income has different goals and needs, and each Member knows that hard work is required, with no shortcut to riches and no guarantee of success. However, for those who devote the time and energy to develop a stable base of customers and then mentor and train others to do the same, the opportunity for personal growth and an attractive part-time or full-time income exists.
6. You suggest that "[c]lose to 90% of these distributors will quit within a year, and Herbalife apparently replaces them each year with hundreds of thousands of new distributors."
Again, you cite as "evidence" what is in fact stale and distorted information. The disclosure that you selectively (and misleadingly) characterize was from 2004, and did not pertain to participants in the business opportunity.
Recent data confirms not only that our retention rates for sales leaders – those Members who are most clearly invested in the business opportunity – are strong and rising, but that more of them are re-qualifying through the accumulated method, where qualification is based on modest but steady sales over longer periods, than through the traditional method, where qualification is based on higher sales over shorter periods.
In the 10 years between 2002 (when we first introduced the accumulated method for requalification) and 2012, our retention rate for supervisors increased from 27.3% to 51.8%, with re-qualifications under the accumulated method steadily increasing as a proportion of all re-qualifications. Far from suggesting that 9 in 10 Members seeking a business opportunity quit within 12 months, these numbers confirm that the majority of those who pursue Herbalife as a business and invest the time and energy needed to succeed, remain active Herbalife sales leaders.
7. You suggest that Herbalife's policy is not to track retail sales to consumers from its distributors and not to report any data on retail sales to new recruits and the public. You claim the "Federal Trade Commission has clearly stated that robust retail sales to non- distributors are the key to separating legitimate multi-level marketing companies from pyramid schemes."
Like most consumer product companies, including but not limited to direct sellers, Herbalife Ltd. (NYSE:HLF) relies partially on independent, third-party research to understand point-of-sale information. Research by Lieberman Research Worldwide and Nielsen shows that Herbalife has millions of customers in the United States and that 78% to 87% of our customers are not within our network of Members.
While we require our Members to keep receipts as a matter of good business practice and for audit purposes, we do not require that these be submitted routinely to the company. The customer list of each our Members who participates in the business opportunity is sensitive commercial information, which is the result of their own hard work. Our approach to receipts is similar to that utilized by the IRS. Each taxpayer need not submit receipts along with his or her tax returns because this requirement would be overly burdensome. Like the IRS, however, we conduct spot audits, in our case to ensure that purchases are supported by consumption. The company's low product return rate (less than one percent), despite the industry's leading and clearly communicated return policy, also confirms that products are purchased for consumption and that inventory loading is not occurring.
You misstate the FTC's position and recent legal precedent regarding multi-level marketing companies. As the FTC stated in its January 14, 2004 Staff Advisory Opinion, the critical question relating to a multi-level marketing company is "whether revenues that primarily support the commissions paid to all participants are generated from purchases of goods and services that are not simply incidental to the purchase of the right to participate in a money- making venture." On June 2, 2014, the Ninth Circuit confirmed this accurately stated the law. FTC v. BurnLounge, Inc., No. 12-55926, — F.3d — (9th Cir. June 2, 2014). As the BurnLounge decision makes clear, a legitimate multi-level marketing company sells real products for which there is genuine demand, by members and non-members alike.
Moreover, the Company's business strategy of promoting a healthy, active lifestyle, along with the use of nutritionally balanced weight management products, directly addresses public health concerns relating to obesity, weight management, and general health. The Company's structure and operations demonstrate a commitment to meeting the strong and increasing demand for its products in large part by developing the infrastructure to ensure a consistent and high quality manufacturing process and integrity in all aspects of production and distribution.Herbalife's products are the lifeblood of its business model, which emphasizes daily consumption. Since 1980 when Herbalife was founded, the Company has focused on the production of conventional foods, dietary supplements, and personal care products. According to a 2013 survey, nearly eight million Americans used an Herbalife product during a recent three-month interval. These products are the output of the more than 7,000 employees who work at Herbalife's facilities throughout the world, and are consumed and/or distributed by the more than 3.7 million Members of Herbalife's network, including more than 550,000 Members in the United States alone. As a result of the efforts of the Company and its dedicated employees and independent contractors, Herbalife sold approximately $5 billion worth of products last year.
8. You suggest that Herbalife distributors exaggerate the health benefits of its products through testimonials, relying on "a small disclaimer that discloses that its health claims have not been evaluated by the Food and Drug Administration nor are its products intended to diagnose, treat, cure, or prevent any disease."
Herbalife does not exaggerate the benefits of any of its products. You criticize Herbalife for stating that "health claims have not been evaluated by the Food and Drug Administration," but this disclaimer is required by law of all companies that make structure-function claims for dietary supplements. Not all products and not all claims trigger the disclaimer, but for those that do, the disclaimer is mandatory. Similar disclaimers can be found on supplements from other manufacturers in the industry – some obvious examples are GNC and Abbott Laboratories (EAS brand of products), as well as other well- respected direct sellers such as Amway (Nutrilite Brand).
We are proud of our products, which are manufactured to the highest level of quality in the industry. This is one reason why Herbalife is the global leader in meal replacement protein shakes.
According to Euromonitor, in 2013, Herbalife Ltd. (NYSE:HLF) accounted for 29.6% of the entire Meal Replacement category. This level of market share is significant – greater even than Coca Cola's 2013 market share in the soft drinks category (20.9%).
Herbalife expressly forbids Members from making false or misleading comments about our products and all orders are shipped with our Gold Standard in Consumer Protection brochure, which includes a phone number to report or inquire about any claims. Moreover, the company engages in extensive training and monitoring on permissible claims and actively enforces relevant rules when a violation is discovered.
9. You suggest that Herbalife's nutrition clubs are required to follow a "bizarre set of rules," supposedly to avoid various laws.
Nutrition clubs are social gathering locales, not retail stores or franchises. They are structured to preserve the personal relationships at the heart of our sales model. People typically come into a nutrition club under invitation of the owner or another customer; the nutrition club may charge a fee to participate in the club. Nutrition clubs create a social dynamic around healthy lifestyle and weight management that helps individuals achieve their goals.
The Nutrition Club rules that you characterize as "bizarre" are designed in part to ensure a level playing field, so that each Herbalife Member pursuing the business opportunity has an equal opportunity to compete. They are also designed to ensure that Nutrition Clubs do, in fact, operate in full compliance with the law.
As part of our safeguards and proactive compliance policy, we have a team of employees who visit nutrition clubs to monitor compliance with Herbalife rules. If you have never visited a Nutrition Club, we would encourage you to do so, and would be happy to help arrange a visit at a representative club. If you do so with an open mind, we are confident you will see the value these Clubs bring to communities throughout the United States, including in the Latino communities who provide so much of LULAC's membership.
We support LULAC's work to advance the economic conditions, educational attainment, health and civil rights of Hispanic Americans through community-based programs. Because we care about LULAC and what it stands for, we take seriously the concerns it has raised – and when we agree, we act. That is why last year we launched a re-training initiative for our Members and now ship a guide book with every product order. We also changed how we talk about our relationship with our Members, clarifying the terminology we use. LULACs members are our Members and consumers; like any business we listen to our most important audience and respond.
At Herbalife Ltd. (NYSE:HLF) , we are proud of our products, Members, and the business opportunities that we provide. We are changing and improving people's lives, as you can see on www.iamherbalife.com. Our business is thriving because the people who know it believe in our high-quality products and our industry-leading practices. We welcome the opportunity to work with Members of your Board or local chapters, as well as any organization interested in an open and constructive dialogue.
Sincerely,
Des Walsh President
cc: Margaret Moran, President of LULAC