Jürgen Pulvermüller – ViSalus Germany Hits National Director In 45 Days
June 17, 2014
By Team Business For Home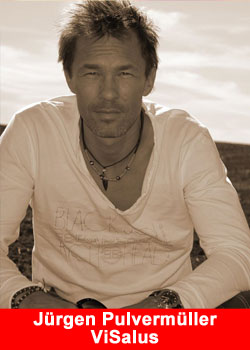 After Jürgen Pulvermüller's company went bankrupt in 2013, he promised himself to never work for the network marketing industry again, which he first started with in 2009. The former maintenance engineer then shifted towards the real estate business, but he soon found it to be unexciting and limiting.
But sometimes things turn out differently than what you initially planned for yourself.
When Jürgen met Vi Co-Founder and Global Ambassador Nick Sarnicola and UK's 1-Star Ambassador Peter Webb, he decided to give Vi a shot. In February 2014, he accepted The Challenge, immediately enrolling as a Promoter even though he was initially apprehensive about the outcome.
Life surprised him again, however. Jürgen became a Regional Director and earned his BMW after just 16 days with Vi. Forty-three days later, he advanced to National Director. On top of that, his Challenge was an easy and wonderful experience for him—losing 10 lbs. and even participating in a triathlon.
Jürgen has also redefined his goals in life: through Vi, he wants to help more people take risks and continually Challenge themselves—whether it's a personal, financial or fitness goal.
When asked what his motivation is, Jürgen cited one quote that has defined his life in every situation. It's what gave him the courage to give Vi a shot, and turn it into a flourishing business:
"Here's to the crazy ones, the misfits, the rebels, the troublemakers, the round pegs in the square holes… the ones who see things differently—they're not fond of rules…
You can quote them, disagree with them, glorify or vilify them, but the only thing you can't do is ignore them because they change things… they push the human race forward, and while some may see them as the crazy ones, we see genius, because the ones who are crazy enough to think that they can change the world, are the ones who do." – Steve Jobs, the late Apple Co-Founder and CEO (1955-2011)
About ViSalus
ViSalus, Inc. is a healthy lifestyle company that is dedicated to Challenging the World… 10 lbs. at a Time. Founded in 2005, ViSalus develops high-quality weight-management products and nutritional supplements that it markets and sells direct-to-consumers through an international sales force of independent promoters.
ViSalus markets its products in North America under the ViSalus® brand and in Europe under the Vi™ brand, through the Body by Vi Challenge®. ViSalus is headquartered in Los Angeles, California and Troy, Michigan and is majority-owned by Blyth, Inc. (NYSE: BTH). For more information about ViSalus, please visit vi.com and follow the Vi-Community on Facebook and Twitter.