ACN's Vegetable Garden Gives Back To The Community
July 31, 2014
By Nicole Dunkley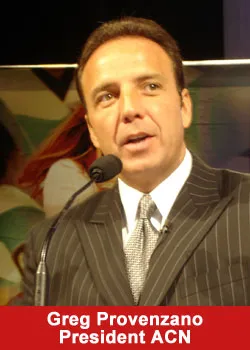 ACN, Inc. was recently announced as the naming sponsor of the new Vegetable Garden at Carolinas Medical Center-NorthEast. CMC-NorthEast is a regional hospital in Concord, NC, located just around the corner from ACN's World Headquarters.
The ACN Vegetable Garden will provide fresh, healthy fruits and vegetables for CMC-NorthEast's cafeteria, educate the community on the benefits of growing and eating healthy foods and encourage people to grow their own gardens in their backyards.
The ACN Vegetable Garden will include a greenhouse, raised herb beds, an outdoor grilling kitchen, and fruits and vegetable gardens. The official ribbon cutting is set to take place in the spring of 2015.
ACN's partnership with the NorthEast Foundation could not be a better fit. ACN has a longstanding commitment to supporting children through its work with the Ronald McDonald House, globally and at the local Charlotte House, and the Will Play for Food Foundation, which helps feed hungry children in North America while teaching families about healthy food options. It only made sense for ACN to sponsor a foundation right at home that affects its community and aligns so well with its dedication to changing lives.
ACN's CEO, Chip Barker, attended the ACN Vegetable Garden Ground Breaking July 16 to speak on behalf of ACN and explain how honored the company feels to be a part of this incredible program. He and other ACN executives helped break ground with representatives from CMC-NorthEast. They tilled soil and planted the garden's first seeds to kick off the ambitious project.
When speaking at the Vegetable Garden Ground Breaking about the NorthEast Foundation's search for a sponsor, Phyllis Wingate, President of CMC-NorthEast, said, ACN, a multi-year donor to the NorthEast Foundation, quickly stepped up to the plate and provided the generous naming opportunity for the garden, and other supporters quickly followed suit. Wingate also noted that the NorthEast Foundation is grateful for the donations, as the garden will be constructed entirely with donor funds.
We are incredibly proud to partner with CMC-NorthEast and with this entire community, said ACN CEO Chip Barker. We love calling Concord, NC our home, therefore it is our duty and our privilege to support the community in which we live, work, and play.
About ACN Inc.
Founded in 1993, ACN is the world's largest direct seller of telecommunications, energy, and other essential services for residential and business customers. ACN provides the services people need and use every day including Phone Service, Wireless, Energy, Merchant Services, Television, Home Security and Automation and High Speed Internet. ACN operates in 24 countries with offices located throughout North America, Latin America, Europe, Asia and the Pacific. For information on ACN's home-based business opportunity, visit https://www.acninc.com.
About NorthEast Foundation
NorthEast Foundation was created in 1994 to support one of the community's most valued assets, Carolinas Medical Center-NorthEast. Community leaders were invited to establish a Foundation Board of Directors whose mission was to secure additional financial support for Carolinas Medical Center-NorthEast. Through an organized program of fund development with families, friends, businesses, and neighbors, this mission continues today. Gifts to NorthEast Foundation are considered gifts of love and support from the community, gifts that acknowledge the importance of preserving and enhancing the health status of our community.