Dallin Larsen's Retirement Letter
July 15, 2014
By Tina Williams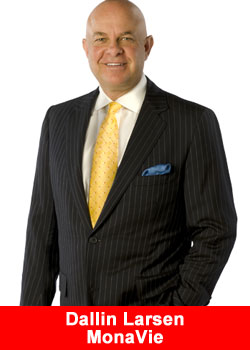 In January of 2005, Karree and I, along with Randy, Henry and a handful of distributors launched MonaVie. It's been almost ten years since that fateful day in Salt Lake City, Utah that would prove to be the genesis for perhaps the greatest decade of network marketing success ever achieved by a single company. We shattered records but more importantly, people's lives were changed all over the world, physically, emotionally, financially and yes, spiritually. Not the least of which were mine and Karree's.
The MORE Project was born and still today and hopefully for decades to come, the children will continue to be blessed in the favelas of Brazil, thanks to MonaVie and each of us and of course, to Sergio and Sylvia. No words can adequately convey the depth of feeling and gratitude that Karree and I have in our hearts for the MonaVie family nor will time erase the fond memories we feel for each of you whom we've had the privilege of serving. We are simply better, because of you and your goodness.
With Mauricio Bellora now on board as CEO of MonaVie, I believe that MonaVie can absolutely create greater success in the future than we've seen in the past but the baton absolutely must be passed. So, after many months of prayer, deliberation and conversation with Karree, I've decided to step aside from MonaVie as Chairman. There must be one singular corporate leader who feels free to cast a vision and implement a strategy.
Although Mauricio and I come from different cultures, what we do have in common is passion, hard work, and a desire to make a difference. My hope is that you will show Mauricio the same level of love, encouragement, and support over the coming months and years as you've shown to me. With a unified MonaVie, with egos set aside and the good of the people being in the forefront, there is no reason why MonaVie can't soar to heights unseen yet in the company, but only if there is unity. Belief and unity is what is needed most right now. We already have amazing products and a great compensation plan.
It is now about belief and unity. And, although no longer involved actively in the company, I'm still a shareholder and will forever be the Founder of MonaVie and as such, plan to use this platform to teach principles of leadership, teach the virtues of free enterprise and teach the truth that each of us have a spark of the divine, having been created by a loving God which makes our potential unlimited!
I have said many times on stage that I've tried to order my life with God, Family and MonaVie, in that order of importance. If I didn't believe in my heart of hearts that this was the right thing to do or that I was being moved in this direction, I wouldn't be making this decision. Karree and I started our journey with MonaVie on our knees, making some promises and commitments. We are ending our journey with MonaVie after many hours on our knees and after many tears, yet, with the peace of knowing that in His eyes, our work was done.
With all our love and gratitude,
Dallin and Karree Larsen