Mary Kay Event Expecting 30,000 Attendees
July 23, 2014
By Tina Williams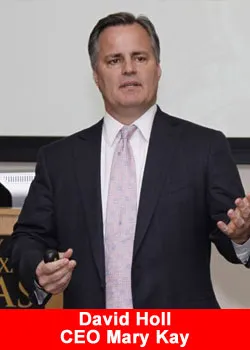 Mary Kay Inc.'s 2014 seminar that kicked off Wednesday is expected to bring more than 30,000 attendees to the Kay Bailey Hutchison Convention Center, generating $32.1 million and 2,4000 jobs into the city of Dallas.
This year marks the 40th anniversary that Dallas has hosted Mary Kay's signature 18-day event. The seminar ends Aug. 2.
Last year's seminar celebrated the Addison-based cosmetic company's 50th anniversary and drew more than 50,000 international attendees. The estimated economic impact of last year's seminar was $49 million.
For the Dallas convention center, the seminar is among a list of almost 20 major events that combined are expected to draw more than 250,000 guests to the venue.
So far this year, events at the center have generated more than $200 million, counting the impact of the Mary Kay Seminar. Top events hosted this year, include the Christian Congregation of Jehovah's Witnesses, which drew 50,000 attendees and generated $43.03 million, and Mary Kay's seminar.
Last year, events generated a total of $1.6 billion for the city.
Check out the slide show for images from Mary Kay meeting seminars through the years.
Here is a timeline highlighting Mary Kay's history in Dallas:
Mary Kay Seminar
1963 – Beauty by Mary Kay opens for business in Dallas.
1964 – Mary Kay holds first Seminar with 200 attendees in 500-square-foot company warehouse.
1969 – Five Independent Sales Directors earn the use of a signature pink 1970 Cadillac Coupe de Ville.
1974 – Mary Kay Seminar moves to the Dallas Convention Center.
1981 – Mary Kay Seminar grows to two back-to-back events held over six days with 16,500 attendees.
1984 – Mary Kay Seminar grows to four back-to-back events over 13 days with 22,000 attendees.
1997 – Mary Kay Seminar grows to five back-to-back events over 17 days to accommodate record attendance.
2001 – Mary Kay Ash passes away on Thanksgiving Day, her favorite holiday.
2003 – Dallas Convention Center completes $130 million expansion yielding 1 million square feet of exhibit space.
2006 – Mary Kay Seminar delivers economic impact equal to four TX-OU Weekends.
2013 – Mary Kay celebrates 50th anniversary with $3 billion in global wholesale sales and 3 million Independent Beauty Consultants.
2014 – Mary Kay Seminar delivers $32.1 million economic impact from 30,000 attendees.