Seven Point 2's, Black Diamonds, Oscar & Carrie Jo Alcoser Earn Over $20k In June
August 7, 2014
By Tina Williams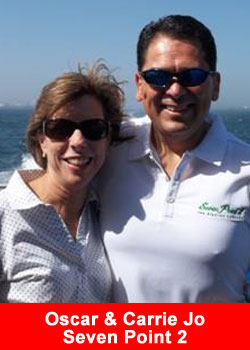 Momentum was the name of the game for North American Black Diamonds Oscar & Carrie Jo Alcoser in June, as they earned over $20,000. After participating in the Platinum and Above Advanced Training with SVP Philip Townsend with their team leaders in Denver CO, the Alcoser's noted that their entire team is "now enrolled in the vision, and empowered to participate in the success of the entire Company!".
What were the keys to Black Diamond Oscar & Carrie Jo Alcoser's banner month? "Having so many events to promote for, and new people to invite has been a major key." Their team, which they affectionately call "The Legacy Team", is maturing with levels of leaders who are beginning to learn how to leverage their time and build their SevenPoint2® businesses through the Power of Promoting ALL SevenPoint2®events including the Leadership & Training Calls, Wellness Calls, Webinars, and Local Leadership Events.
"The active members that are going to 7.2 University's Trainings and who are inviting others to get on the calls & webinars are having the BEST RESULTS in earning Fast Track Cash, building their teams and rank advancing! Because of this, we are seeing more long distant recruiting and enrollment with people excited to open up new markets for SevenPoint2®. We can live locally and build nationally and internationally using our simple and effective system!"
Other keys to the Alcoser's trail blazing success? They are taking advantage of the new 3 Day WLMS Trial Packs as a highly effective promotion tool, and teaching their team to do the same. They are encouraging more Health Made Simple Parties in their team and seeing great results.
But the most powerful force behind their success is consistent daily activities. This Black Diamond Couple is focused on long term goals and takes daily action towards achieving them.
SevenPoint2 is led by Jason Boreyko – CEO and Dr. Howard Cohn – CPO. The company pre-launched in Newport Beach, California on October 1st, 2011. SevenPoint2's headquarters are in Newport Beach, California, USA.
Jason Boreyko served as CEO & Co-Founder of New Vision International. Under his leadership New Vision was the fastest growing Network Marketing Company in the world and reached $100 Million in Sales in just 13 months. It went on to generate over 1.4 million members and moved over 1 billion in total sales.
Originally reported by: Seven Point 2