Reuters Reports On Herbalife, Says Ackman's Attacks Fails To Resonate In Nutrition Clubs
September 6, 2014
By Tina Williams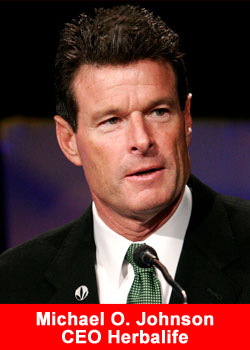 The following article reported by Reuters recently shares the Ackman vs Herbalife fiasco in a rather objective manner. Ultimately, his claims aren't resonating with Herbalife members or nutritional club owners.
New York hedge fund manager William Ackman says Herbalife is a pyramid scheme that exploits the poor. He has taken a $1 billion bet against the company's stock and spent millions on research to attack the nutritional supplements seller, including making a video showing former distributors who claim they were deceived and lost money trying to sell its products.
Yet a visit to some of the clubs that have been set up to dispense the company's shakes, teas and other items, largely to the Hispanic community in the U.S., shows that it has fans. These are consumers who stress their health has improved and distributors who are thankful to have the opportunity to run their own businesses.
In conversations at 10 such clubs that Reuters reporters visited in recent weeks in the Los Angeles area, New York and Newark, New Jersey, more than 20 people said they had lost a substantial amount of weight while consuming Herbalife products. These claims could not be verified by Reuters but if true the comments cast a favorable light on Herbalife's products, especially as Hispanics suffer from higher rates of obesity than the overall U.S. population.
While some of the people running the clubs were struggling to make ends meet, most were optimistic about being distributors of the products. In particular, women with children said they were pleased with flexible hours and the opportunity to bring their kids to work when necessary.
Two customers sipping shakes in a club in Boyle Heights on the east side of Los Angeles, Silvia Lopez and Ana Montenegro, were typical of those who swear by the products.
When I met her, her stomach was up to here, Lopez said, holding a hand over Montenegro's belly. And I said, 'Let's go. We can do it.'
She lost 30 pounds! Lopez said.
Forty, Montenegro corrected her. Both said they have no interest in selling Herbalife products, just consuming them.
Ruth Lozano, 41, who also runs a club in Boyle Heights, claims that she dropped eight sizes through use of Herbalife products and her cholesterol levels dropped.
And Angel Perez, a 29-year-old daughter of Mexican immigrants, says she makes a "decent, honest living" selling Herbalife products, earning about $3,000 to $4,000 per month. Her club in Inglewood, just west of Los Angeles, encourages a friendly, cafe-like environment, with monthly weight-loss challenges.
She resents the attacks from Ackman. I am not a poor, dumb, Hispanic person, and I am not trying to take advantage of people, she said. I find that insulting. I'm trying to help our community.
SATURATION WARNING
Herbalife recommends that those seeking to lose weight replace two of their three meals each day with shakes, which are made with a powder that contains protein and vitamins that is then mixed with soy or nonfat milk and some other ingredients depending on the flavor desired.
Some doctors allied with Herbalife back the company's diet claims. The U.S. Food and Drug Administration, though, has not evaluated those claims.
Ackman's main line of attack has not been about the quality of the products and whether they work in controlling weight or improving health. Instead, he has argued that the whole Herbalife system is a pyramid scheme that won't survive – that it is based on recruiting new distributors to pay existing distributors (their incomes are based on their own sales and on the sales of those they recruit) and that the market will get saturated as more clubs are established often very near existing ones.
His team has produced a video in which a series of former Herbalife distributors say they spent thousands of dollars on Herbalife products and training but ended up with losses and products they couldn't sell. These are pretend businesses, said David Klafter, senior counsel at Ackman's Pershing Square Capital Management. The hedge fund estimates that sellers on average lose about $12,000 per year once rent for the clubs is taken into account.
Partly as a result of lobbying by Ackman, there are a series of federal and state investigations into whether Herbalife is a pyramid scheme and related questions. It is unclear what the precise details of those probes are, and it is not clear whether they will lead to any action against Herbalife and how serious any such action could be.
Herbalife and its supporters argue that it is a legitimate multi-level marketing company that has been growing now for 34 years, sells products that are in demand, and helps many of its 3.7 million distributors worldwide to make a living. "The overwhelming majority of our consumers and members have been satisfied with their Herbalife experiences," a company spokesman said.
SOME COMPLAINTS
On the visits to the clubs in the U.S. there were a minority of distributors who were skeptical about the business they had gotten into.
One distributor in South Los Angeles says she spends about $1,200 a month on Herbalife products but only earns enough to help pay the rent at her exercise studio.
An 18-year-old Guatemalan-born mother who would only give her name as Mary currently works up to half a day for no pay at a club in Newark, though she does get free shakes. She has also paid a $110 registration fee to become a member and is taking classes to learn more about the product as she wants to become a distributor.
Some of the distributors interviewed said they made a good living.
One 27-year-old, who only gave his name as Alex, pulled out a wad of cash in one club in the Bronx to illustrate how well he claimed to be doing.
The clubs vary from relatively sophisticated exercise studios that sell and distribute Herbalife products to very basic rooms with just a dozen chairs in a circle to encourage customers to relax and socialize, sometimes watching Spanish-language soap operas while looking after their kids.
John Hempton, an Australian hedge fund manager, who says he owns the stock and has visited Herbalife clubs in Australia and the U.S., sees the clubs creating a sense of community. "The product is real, and it fulfills a fairly real human need. It is a support group for weight loss," he recently told Reuters.
Still, some distributors warn it clearly isn't an occupation for everyone. Delmy Ruiz says she makes a couple of thousand dollars a month selling Herbalife out of a club in Canoga Park in the San Fernando Valley but the 64-year-old's attempt to get her son to do the same failed. "He did what I did step by step, but he didn't make it," said Ruiz, adding that his heart wasn't in it. "You don't work, you don't get paid."