Talk Fusion CIO Recognizes WebRTC As Cutting Edge Technology
September 30, 2014
By Nicole Dunkley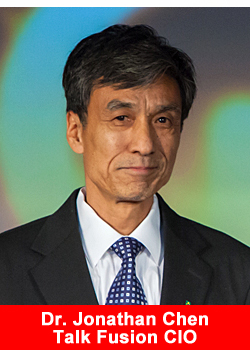 As Talk Fusion Director of Information Technology and CIO, Dr. Jonathan Chen has remained actively attuned to the latest advances and breakthroughs on the Internet, especially concerning live video broadcast technology. With the advent of open source WebRTC protocols, Dr. Chen came to a staggering conclusion: this browser-based real-time communication technology would revolutionize Internet video.
Dr. Chen immediately began work on adapting WebRTC into Talk Fusion video products.
"When the Internet era started, I sensed a revolution; not just in technology, but in human life and world affairs," Dr. Chen reflects. "The concept of WebRTC had the same initial impulse on me as the Internet itself – the same wave of revolutionary potential. WebRTC will not only change how people communicate on the Internet, it will change how people communicate period."
Using the power of WebRTC, Dr. Chen and his expert programmers began fervently crafting Talk Fusion products that allow Customers and Associates to host a multitude of online video communications, such as Internet video conferences or WebRTC video chat. "We realized how critical it was to proactively engineer our own fundamental systems. In doing so, we came up with three unique, ingenuous techniques for which we have filed patent protection."
Getting the jump on integrating WebRTC into Talk Fusion's own video technology gave Talk Fusion an industry head start. According to Dr. Chen, "We got into the real-time web application era – conservatively speaking – about 5 years ahead of the pack.
"Our multicast technology puts Talk Fusion in a position to provide pristine real-time web communication service globally. In the six months since its inauguration, our CONNECT live meeting service has already hosted over 114,000 live broadcasts and video conferences."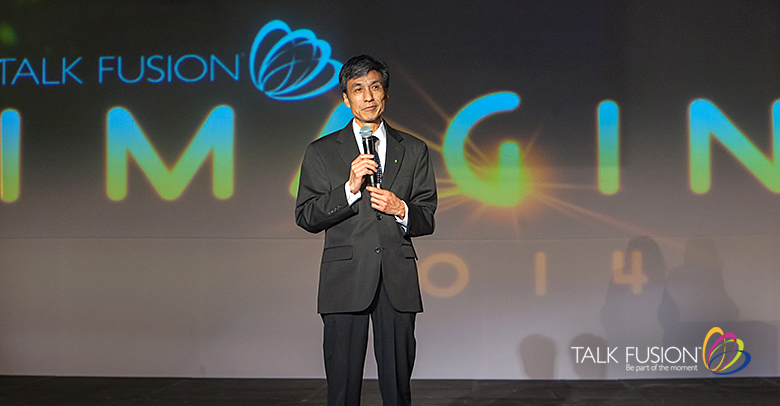 Recognized as one of the leading programmers in the U.S., Dr. Chen used his Ph.D. in Applied Mathematics from the University of Wisconsin, combined with his skill and expertise in multiple computer languages and operating systems, to create the product that started Talk Fusion: Video Email. Since then he has remained the driving force behind programming increasingly innovative Video Products, helping make Talk Fusion a leader in world-wide Video Communication.
WebRTC integration has become his latest passion, which includes creation of Talk Fusion's newest person-to-person live video chat. With no additional special programs, downloads or plug-ins, two or more people can talk via video using any web-connected devices (PC, Mac, cellphone or tablet) that have a camera and a browser.
"Live Chat will be another application of our multicast webRTC service. There are many other ways we are exploring; an obvious location would be our upcoming online community platform, the VOICE."
While Dr. Chen continues to keep an eye open for the latest Internet developments, his integration of cutting-edge technology with ground-breaking video applications keeps Talk Fusion ahead of the curve and the competition.
ABOUT TALK FUSION
A global leader in Video Communication Products, Talk Fusion is dedicated to changing lives through unmatched life-sharing solutions powered by proprietary, patent-pending video technology. Talk Fusion's innovative products are marketed person-to-person by independent Associates in more than 140 countries.
Founded in 2007 by CEO Bob Reina, Talk Fusion introduced the world's first Instant Pay Compensation Plan. Talk Fusion adheres to the highest ethical business practices and is a member of the prestigious Direct Selling Association (DSA). Reina firmly believes that "with great success comes greater responsibility."
Talk Fusion fosters a strong commitment to Giving Back to friends, family, communities, and animal charities across the world to create a positive global change. Learn more at www.TalkFusion.com and "Like" Talk Fusion at www.facebook.com/TalkFusion.