Healthy Home Companys Mick And Vick Karshner Break Diamond Elite
October 28, 2014
By Tina Williams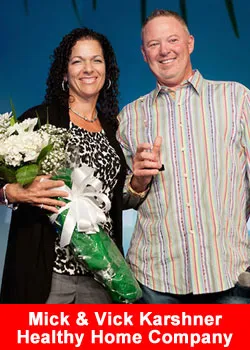 Brig Hart, one of the most successful direct marketing professionals in history, who broke over 500 Diamond-ranked professionals using his systematic way of building a direct marketing business, is doing it again.
The Life Support System for Ultimate Success, founded on the principles and systems he has been perfecting using his experiences and successes over the past 30 years, was launched earlier this month.
Using the principles and methodology taught by Brig in this system, Mick and Vick Karshner have achieved the esteemed rank of Diamond Elite in less than nine months. Brig has also broken his second Diamond-ranked couple, Mike and Sahi Hernandez, followed by dozens of Bronze, Gold, Emerald and Ruby-ranked representatives. Brig is searching for dedicated business builders to personally mentor and expects to break 100 diamonds by the end of next year.
Brig has been a mentor of mine for years. Following his methodology has paid off for me with several companies and being plugged into the next generation of his system is making it even easier to hit my goals in a shorter period of time. Being the first Diamond Elite using his system is a big deal for Vicki and me.

Being a part of Brig's Life Support team makes me know it is a safe place to build a business, include my family and be part of something much bigger than myself. Having the opportunity to represent the premium quality products from the Healthy Home Company and being part of their cause to take on the Toxic Titans is more fulfilling than anything I have done in the past." – Mick Karshner
Brig and several partners are pioneering a new space called Direct Retailing. This model combines the best practices from one-to-one marketing with a membership buying club to offer premium quality products at retail competitive prices. The Life Support System supports one part of this unique model by using a unique compensation model that reflects more traditional direct selling.
The Healthy Home Company, a traditional retail-focused, organic and all natural products company, sells its products through a membership buying club, but also distributes its products using the Life Support business model.
"My Life Support System was developed specifically for couples like Mick and Vick—those willing to put in the work needed to achieve their dreams—physically, financially, emotionally and spiritually," said Brig Hart. "Mick and Vick have mastered the art of building, managing and maintaining large organizations using a high-touch, high-tech approach, and I am seeing great promise in them and the leaders they're developing in the field."
About Life Support for Ultimate Success
Brig Hart, one the most successful professionals in the direct marketing industry, has spent over 30 years helping others achieve personal success: financially, physically, emotionally and spiritually. With The Life Support System for Ultimate Success, Brig is using his systematic approach to help people achieve success through online membership, direct marketing business building tools, teaching and training as well as comprehensive personal development programs. This system has help create more millionaires than almost any other business in history.
About The Healthy Home Company
The Healthy Home Company is a membership-based buying club that distributes over 70 products in the personal care, household, skin care, makeup, and health and wellness categories made with all-natural, Ecocert and ToxicFree® ingredients. The Healthy Home Company uses one-to-one, word of mouth advertising to sell its products and rewards its active members with a 10% cash reward based on what their referral members purchase; for as long as those referrals purchase products.
This "direct retailing" approach enables The Healthy Home Company to compete directly with all-natural and organic grocery stores, vitamin and supplement shops, online retailers and product companies (especially in the all-natural and organic products arena).
Healthy Home is a trusted resource for information on toxic-free living and serves a community of like-minded individuals who want to make the home a healthier place to raise a family. Healthy Home also distributes its products through other alternative channels that allow its members to earn a part-time or full-time income.