Youngevity Announces Acquisition of Restart Your Life
October 6, 2014
By Nicole Dunkley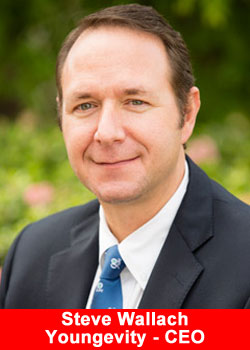 Youngevity Essential Life Sciences, a wholly owned subsidiary of Youngevity International, Inc., announced that it consummated the acquisition of the business of Restart Your Life, a dietary supplement company and provider of immune system support products and therapeutic skin lotions.
As a result of the business combination, Youngevity distributors and customers will have access to the unique line of high-quality products from Restart Your Life. In turn, Restart Your Life distributors and customers will gain access to more than 1,000 high-quality products offered by Youngevity, including nutritional supplements, sports and energy drinks, health and wellness-related services, weight management, lifestyle products (pets, spa and bath, garden), gourmet coffee, packaged foods, skincare, cosmetics, apparel and accessories.
Joyce Cordell, CEO of Restart Your Life, said, The Restart Your Life story is one of scientific innovation and excellence in the field of immunology. By joining the Youngevity family we have become an international company with a solid foundation backed by the stability of an established leader in the direct selling industry. This expands the Restart brand globally and we could not be more excited for our entire distributor base. This is a huge win for the Restart Your Life family.
A.J. Lanigan, Co-Founder of Restart Your Life, said, "Since 1996, I have been working to develop Beta 1, 3-D Glucan as the most relevant immune support compound in the world. Countless peer reviewed medical articles have attested to its safety and benefits. I am a big believer that network marketing is a proper channel to help rapidly advance this type of product. I look forward to working with the corporate staff, the tremendously talented field force and the most important asset, the great customers that I expect will enjoy good health and have an opportunity for great financial success. I would encourage all to avail themselves of the vast reservoir of knowledge available to make sure they reach their goals. I want to give special recognition to Dr. Joel Wallach. He has blazed a trail as a pioneer in this field and it is my honor to assist him to accomplish his dreams for a better world."
"We proudly welcome Restart Your Life to our growing Youngevity family as we provide our distributors and customers with more high quality product and service offerings," said Steve Wallach, CEO of Youngevity. "We are excited about the Restart Your Life acquisition as we expect it will expand our presence in the dietary supplements market. This represents Youngevity's third strategic acquisition over the past three quarters of 2014 and we are well positioned to continue this growth going into 2015."
About Youngevity International, Inc.
Youngevity International Inc., is a fast-growing, innovative, multi-dimensional company that offers a wide range of consumer products and services, primarily through person-to-person selling relationships that comprise a network of networks. The Company also is a vertically integrated producer of the finest coffees for the commercial, retail and direct sales channels, and has launched a new Green Coffee sales division to leverage its recently acquired coffee plantation and Green Coffee processing plant in Nicaragua. The Company was formed after the merger of Youngevity Essential Life Sciences and Javalution Coffee Company in the summer of 2011, and changed its name to Youngevity International Inc. from AL International, Inc. in July 2013.