Innutra Joins Fitteam
November 19, 2014
By Tina Williams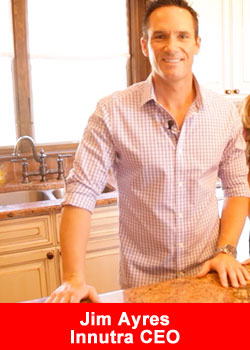 In an unprecedented move, Innutra LLC, a company that changed thousands of lives through its cutting edge nutritional supplements and meal plan systems has joined with FITTEAM GLOBAL, a new exciting company lead by the expertise of Industry expert and Founder of Visionaries Worldwide, Christopher Hummel.
This strategic alliance will meld the efforts of two cutting edge companies; one that has developed an all-natural line of nutritional supplements and systems that has transformed human health in more than 10,000 lives and the other with marketing expertise and training tools to catapult Affiliates to a whole new level.
"Innutra has always stood by its vision to change the world through our incredible nutritional supplements and lifestyle planning," said Jim Ayres, Co-Founder of Innutra, LLC. He added, "with the marketing firepower of Chris Hummel combined with the efficient operating systems and back-office tools that FITTEAM GLOBAL has developed, Innutra and FITTEAM GLOBAL can make a positive impact in more lives, more quickly, and everyone involved has the opportunity to flourish to another level.

I know Chris Hummel is a man of integrity and no one works harder than he does to lead a team." Mr. Ayres continued, "we are all very excited about this transition and the future that FITTEAM and Innutra will create for FITTEAM Affiliates around the world. FITTEAM GLOBAL's operations, back-office, compensation plan, and branding are superior to anything I have ever seen."
"We are excited to be working with Innutra. It is a win-win situation for everyone involved. This is just the beginning of many great announcements from FITTEAM. The excitement we have already witnessed is unlike any I have ever seen before. We will continue to serve people and help our Affiliates design a life they want and leave a legacy for their children, " said Chris Hummel.
FITTEAM GLOBAL markets nutritional supplements to improve health and vitality and teaches the importance of health, nutrition, and fitness. FITTEAM's products are sold by FITTEAM's independent sales agents (Affiliates). FITTEAM is led by a team of industry leaders.