"Pyramid Scheme Or Not, Herbalife Is Tanking"
November 5, 2014
By Tina Williams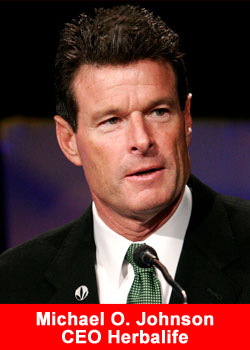 The LA Times released the following article today, making a bold prediction about industry giant, Herbalife:
In December 2012, Hedge fund investor Bill Ackman painted a huge bull's-eye on the back of Herbalife, labeling the Los Angeles nutritional supplements company an illegal pyramid scheme and placing a $1-billion short bet against its shares.
Ackman supported his bet with a 334-slide PowerPoint presentation that eviscerated the company in heroic detail. Whether Herbalife's business model is illegal — ongoing investigations by federal and state authorities have that issue, and others, under scrutiny — much of what Ackman said at the time appears well-taken today.
So far this year, Herbalife's shares are down about 43% — including a roughly 20% drop Tuesday (as of this writing) after the company shocked investors with a bad quarterly report and a pessimistic view of the future Monday. Its shares are currently trading below $45. Ackman, whose short bet is thought to have been made at about $50 a share, appears to be back in the black, after having faced a hefty loss when the stock reached the low $80s earlier this year.
As Ackman observed, Herbalife's business model has long been questionable, relying on overhyped products, an almost invisible research-and-development program, and the targeting of a low-income and heavily Latino customer base.
One key to Herbalife's success, Ackman asserted, was the exaggeration of the science behind its powders and pills. As I reported last year, UCLA's medical school had become something of an enabler in this regard, allowing Herbalife to exploit what it claimed to be a strong affiliation with the medical school to give its products scientific credibility.
This affiliation amounted to $1.5 million the company donated to found the Mark Hughes Cellular and Molecular Nutrition Lab at the medical school's Center for Human Nutrition. (The lab is named after Herbalife's founder, who died in 2000 after a four-day drinking binge — not the greatest advertisement for healthful, active living.) Herbalife also had two UCLA faculty members, David Heber and Louis Ignarro, on its payroll, participating in corporate hype about its weight-loss and other products to an extent that should have made the medical school gag.
The notion that there's less to Herbalife than meets the eye is underscored by one of the key negatives disclosed in its third-quarter report Monday: The company has been wildly overstating the value of its Venezuela business by using a hopelessly outdated exchange rate for the Venezuelan bolivar. Earlier this year, the company was using an exchange rate of about 11 bolivars to the dollar; now it's reduced that to 50 bolivars per dollar, and booked a writedown of about $200 million for this year so far.
That's only part of its troubles. The company has been propping up its stock price with share buybacks, funded by borrowing and by canceling its dividend. Tuesday's trading suggests that investors are finally taking a hard look at its health, and deciding that the stock has been running on empty calories.