Talk Fusion Extends Dream Getaway Qualification After Huge Response
November 11, 2014
By Nicole Dunkley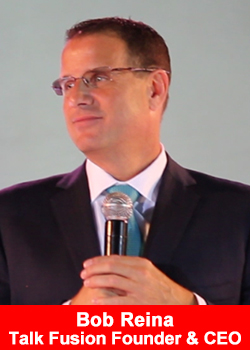 After exceeding its goal to double attendance from their June Dream Getaway incentive trip, Talk Fusion has extended the qualification period another week. Now even more excited Associates can attend the next corporate-sponsored trip to Hawaii in December.
As the clock ticked down to the final hours of qualification, the response was overwhelming, breaking previous records. Countless Associates from around the world dedicated themselves to achieving the rank of Diamond so they could receive the highly anticipated notification that they, too, were going to Maui.
"It's not just the tropical paradise, it's the people. It's being here with leaders from all over the world," says Blue Diamond Associate Leslie Brown. "I can't say enough about doing what it takes to qualify and make it to Hawaii. Once you come here the first time, you'll never miss it again.
Set to take place at the Grand Wailea Resort in Maui from December 4 – 8, Dream Getaway is a bi-annual vacation incentive offered to all Talk Fusion Associates who achieve the rank of Diamond or above during a qualification period. Talk Fusion pays for qualified Associates to fly from around the world to attend.
This will be my fourth Dream Getaway. People from all over the world are here with us. You want to talk about taking your lifestyle to a different level! Talk Fusion is changing people's lives," says Grand Blue Diamond Ron Wright.
The Dream Getaway incentive not only offers qualified Associates a beautiful paid vacation under the tropical sun in Maui, but a chance to meet, network, and be mentored by some of network marketing's most successful leaders.
"Talk Fusion is more than just a company, it's a mission," says Grand Blue Diamond Cedric Penn. "You really need to join us in Maui to experience that firsthand, and understand the true vision of the number one lifestyle company in the world.
Talk Fusion Associates who still want to attend this Dream Getaway have until November 15 at midnight Eastern to reach the rank of Diamond and qualify. This trip (Ron Wright calls it a "paycation") will feature more exciting news than ever before and exciting #TalkFusionSecrets reveals that won't happen anywhere else. Plus, newly-appointed Director of Training Michael E. Kelly will join Founder & CEO Bob Reina and other Talk Fusion leaders to offer powerful motivation and priceless industry insight.
We have a chance to be part of this explosion happening around the world, says Blue Diamond Desire Nongol. Twice a year in Hawaii you can live the lifestyle if you join us! You can't miss this.
ABOUT TALK FUSION
A global leader in video communication products, Talk Fusion connects people around the world through cutting-edge video technology and the means to share it, empowering them to live their dreams. Talk Fusion's innovative video products are marketed person-to-person by independent Associates in more than 140 countries.
Founded in 2007 by CEO Bob Reina, Talk Fusion introduced the world's first Instant Pay Compensation Plan. Talk Fusion adheres to the highest ethical business practices and is a member of the prestigious Direct Selling Association (DSA). Reina firmly believes that "with great success comes greater responsibility."
Talk Fusion fosters a strong commitment to giving back to friends, family, communities, and animal charities across the world to produce a positive global change. Learn more at www.TalkFusion.com and "Like" Talk Fusion at www.facebook.com/TalkFusion.