Visalus' 3-Star Ambassador & New $1 Million Lifetime Earner Neil Bellville On Not Quitting
November 22, 2014
By Tina Williams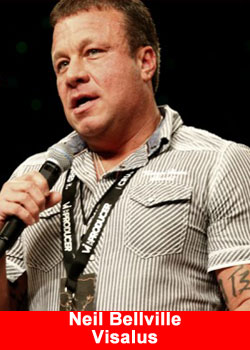 Perhaps just as strong as Neil Bellville's 'Why' is his favorite saying: "It's always too early to quit." It's a powerful motivational force that has led this 3-Star Ambassador to achieve over $1 million in lifetime earnings with Vi.
In asking Neil about his success, and how his story embodies each of the three Vi Foundational Pillars of Life, Health & Prosperity.
On Prosperity
To put things in perspective, what took Neil 14 years to make a little over a million in the industry took him just four years to make a million with Vi. He credits his success to his passionate team dedicated toChallenging the World… 10 lbs. at a Time.
"I was taught a long time ago that it takes teamwork to make dream work," said Neil. In fact, he values his team so much that helping them achieve their goals is way more important than his.
He also believes in Vi events and the impact they've had on his life and business—whether it's on a local, regional or national level. "I do not miss an event, period. It's the #1 belief-building tool that we can have. It's filled with positive energy from likeminded people. There's nothing else that will build the belief tank like an event."
On Life
And when it comes to how Vi has changed his life, Neil also said that the life experiences he's had in the last four years are more than he has experienced in the 14 years before Vi (even more so now that he's going to Costa Rica in December as part of the Vi 25 Top Producers!).
Vi has also impacted his social life in that he's frequently asked to speak to younger people in his community about health or entrepreneurship.
On Health
After a back injury during his time in the Marine Corps Boot Camp, Neil tipped the scales at 242 lbs—his heaviest. On March 3rd, 2012, he made the decision to make health his priority—"seven days a week, without fail." He lost 35 lbs. and put on almost 20 lbs. of lean muscle.
On Finding His Home
Perhaps beyond the many ways that Vi has transformed Neil's life is how he has finally found a home. "I'm honored to be a part of this mission, this culture," he said. "It took me 15 years to find a home, and I'm honored to be with Vi. Vi for Life!"