Talk Fusion Winter Dream Getaway Most Successful Ever
December 10, 2014
By Nicole Dunkley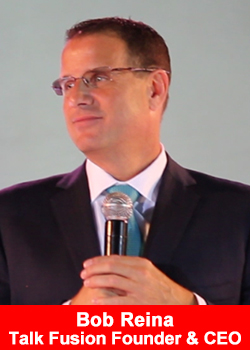 From inspirational networking and leadership motivation to exclusive world-first announcements and wind-swept beaches under a tropical island sun, Talk Fusion's 4th Dream Getaway on December 4 – 8 2014 broke records as their most successful incentive event to date.
Twice a year Talk Fusion hosts the Dream Getaway, a sensational 5 day, 4 night Hawaiian vacation to reward Associates for their dedicated work and job well done. Qualifying Associates are flown from across the globe to the impressive Grand Wailea Resort in Maui, where they experience the powerful message of Talk Fusion in a stunning island location.
"I can tell you that events like Dream Getaway make the business move from your head to your heart," says Talk Fusion Founder & CEO Bob Reina. "Our Independent Associates work hard, they're out in the field making it happen, and we're very happy to recognize their inspirational success with two trips to Hawaii a year."
The highlight of this Dream Getaway event was the unveiling of the company's social media promotion #TalkFusionSecrets, showcasing a new face and functionality to Talk Fusion's internationally renowned CONNECT video communication products – plus the upcoming launch of new, breakthrough patent-pending Video Chat. The awestruck, capacity crowd of Associates at the Grand Wailea Resort were the first in the world to experience full details and witness a demonstration of Talk Fusion's highly successful rebranding of their industry-leading video communication suite under the "CONNECT" banner.
World-exclusive announcements were just some of the incredible perks for Associates attending Dream Getaway. They also attended the Dream Getaway Gala and lavish Sunset Soiree – each an invaluable source of networking, motivation, and camaraderie. On the heels of the powerful CONNECT video technology announcement, it was clearly evident that the timing for the Talk Fusion opportunity is perfect.
In addition to professional, heartfelt inspiration, attendees got their fill of the island's legendary fun and sun. Associates were able to enjoy communing with nature on the Maui Whale Watching tour, and further experience the perfect island weather with a pool party, fun team-building activities and other tropical festivities.
The vacation weekend ended on a deeply personal note, celebrating the inspirational journey of Talk Fusion Associate Beverly Monical who lost her long-fought battle with breast cancer this summer. The energetic team leader always had her heart set on attending Dream Getaway, so Talk Fusion Associates placed orchids into the Pacific Ocean in her memory.
The gesture was a testament to the close-knit family philosophy of Talk Fusion. "That's why Talk Fusion is a home for me," said Grand Blue Diamond Cedric Penn. "It's more than just a company and Associates and some products. It's a family of people that care about us as individuals first. We just happen to do business together."
Not wanting to miss out on the next adventure, excited Associates have already started to "Go Diamond" and qualify for the next Dream Getaway, to be held May 28 – June 1, 2015. An even greater number of Associates is expected to attend; qualification for the summer Dream Getaway lasts until May 2, 2015.
A photo experience of the Dream Getaway December 2014 can be found on the official Talk Fusion Facebook page. Additional information about this luxury incentive is available at TalkFusion.com/dream-getaway.
ABOUT TALK FUSION
A global leader in video communication products, Talk Fusion connects people around the world through cutting-edge video technology and the means to share it, empowering them to live their dreams. Talk Fusion's innovative video products are marketed person-to-person by independent Associates in more than 140 countries.
Founded in 2007 by CEO Bob Reina, Talk Fusion introduced the world's first Instant Pay Compensation Plan. Talk Fusion adheres to the highest ethical business practices and is a member of the prestigious Direct Selling Association (DSA). Reina firmly believes that "with great success comes greater responsibility."
Talk Fusion fosters a strong commitment to giving back to friends, family, communities, and animal charities across the world to produce a positive global change. Learn more at www.TalkFusion.com and "Like" Talk Fusion at www.facebook.com/TalkFusion.
Income Disclaimer:
Any earnings portrayed in any Talk Fusion marketing materials are not necessarily representative of the income, if any, that a Talk Fusion Associate can or will earn through his or her participation in the Talk Fusion Instant Pay Compensation Plan. All references to income, implied or stated, throughout the Talk Fusion Instant Pay Compensation Plan are for illustrative purposes only. These figures should not be considered as guarantees or projections of your actual earnings or profits. Talk Fusion does NOT guarantee any level of income or earnings to any Associate; any representation or guarantee of earnings would be misleading. The purchase of a Talk Fusion Product Package is completely optional and is not required for an Associate to participate in the Talk Fusion Instant Pay Compensation Plan.