Talk Fusion Updates Join Site With Video And Success Stories
January 29, 2015
By Nicole Dunkley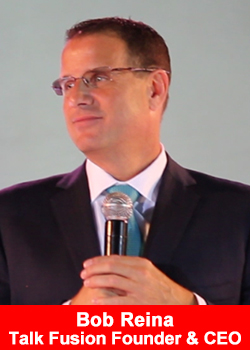 Giving Associates the ability to make a perfect presentation every time, Talk Fusion has relaunched their recruiting site at JoinTalkFusion.com with a brand-new site design and opportunity video. Like their redesigned corporate site (TalkFusion.com), the new join site has been translated into 11 languages to make it available to Prospects around the world.
JoinTalkFusion.com showcases the Talk Fusion business opportunity at-a-glance, with immediate insight into the timing, the recognition and rewards, and Talk Fusion's global Instant Pay Compensation Plan – an industry first that remains unchallenged as the fastest income payment plan in the business.
The highlight of JoinTalkFusion.com is the sleek, professional presentation video that greets Prospects when they view the site. In just over seven minutes, the video host outlines Talk Fusion's timely business opportunity, gives an overview of the compensation plan and incentives, and demonstrates the scope of Talk Fusion CONNECT, the company's suite of innovative video communication products.
The video is currently translated in five languages (Bahasa, Russian, Japanese, Spanish, and French) with the additional six language translations already underway.
Visitors to the join site get to watch video success stories from several of Talk Fusion's Top Leaders and hear firsthand how the Talk Fusion opportunity not only transformed their lives but gave them the ability to help others in their own search for financial freedom.
JoinTalkFusion.com also lets Prospects demo Talk Fusion's new Video Chat Beta, which lets people talk by video on any computer, cellphone, or device that has internet, a web browser, and a camera. With ease of use and crystal clarity, WebRTC-based Video Chat is a great way to communication with up to 8 people and perfect gateway to the rest of Talk Fusion CONNECT video products.
Talk Fusion's join site is a seamless companion to Talk Fusion's regularly scheduled live business opportunity presentations and allows Independent Associates to immediately send Prospects to see powerful multimedia and additional information while their interest is high. JoinTalkFusion.com is just part of Talk Fusion's "Better with Video" initiative that makes it even easier for every Associate to build a strong, successful business.
ABOUT TALK FUSION
A global leader in video communication products, Talk Fusion connects people around the world through cutting-edge video technology and the means to share it, empowering them to live their dreams. Talk Fusion's innovative video products are marketed person-to-person by independent Associates in more than 140 countries.
Founded in 2007 by CEO Bob Reina, Talk Fusion introduced the world's first Instant Pay Compensation Plan. Talk Fusion adheres to the highest ethical business practices and is a member of the prestigious Direct Selling Association (DSA). Reina firmly believes that "with great success comes greater responsibility."
Talk Fusion fosters a strong commitment to giving back to friends, family, communities, and animal charities across the world to produce a positive global change. Learn more at www.TalkFusion.com and "Like" Talk Fusion at www.facebook.com/TalkFusion.
Income Disclaimer:
Any earnings portrayed in any Talk Fusion marketing materials are not necessarily representative of the income, if any, that a Talk Fusion Associate can or will earn through his or her participation in the Talk Fusion Instant Pay Compensation Plan. All references to income, implied or stated, throughout the Talk Fusion Instant Pay Compensation Plan are for illustrative purposes only. These figures should not be considered as guarantees or projections of your actual earnings or profits. Talk Fusion does NOT guarantee any level of income or earnings to any Associate; any representation or guarantee of earnings would be misleading. The purchase of a Talk Fusion Product Package is completely optional and is not required for an Associate to participate in the Talk Fusion Instant Pay Compensation Plan.