New Incentives Inspire Talk Fusion Russian Team For 2015
February 5, 2015
By Nicole Dunkley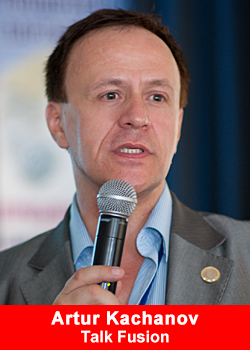 Blue Diamond Artur Kachanov is a powerhouse of activity and motivation. He was already refocused on his Talk Fusion business for the start of 2015.
But when Talk Fusion released their rebranded, redesigned Talk Fusion CONNECT video communication products and added even more incentives to their Instant Pay Compensation Plan, Artur's excitement went off the chart—and he's passing that energy along to his team of Associates.
"Talk Fusion has surpassed my expectations!" Artur says. "We already had a twice-a-year Dream Getaway incentive on the island of Maui, Hawaii and we could receive $600 a month to pay for the lease or purchase of our own C-class Mercedes-Benz. But now Talk Fusion will also buy us a new Mercedes-Benz when we reach a certain qualification. We can qualify for a Rolex watch, and receive diamond rings when we reach a certain milestone in lifetime earnings!"
As impressed as Artur was with new incentives and rewards, the appeal of Talk Fusion's redesigned video products, including the release of the brand-new CONNECT Video Chat, made it obvious that the timing is perfect for the Talk Fusion opportunity.
"As the leader of a Russian-speaking team, I can tell people with 100% certainty that our products are essential! They are very high quality and affordable!
"For example, Video Chat is a product that is available to everyone, but doesn't need to be installed on your computer, phone or tablet! The sound and picture quality far exceeds other programs. And this product is only available at Talk Fusion! Most importantly, it is easy to use! Anyone can visit the Talk Fusion corporate website and video chat for free with anyone, anywhere on the planet!"
His enthusiasm is apparent and it doesn't stop there. "And that is only one product. We have a lot of them—and they are all great. Entrepreneurs from around the world have the opportunity to actually reduce advertising costs and attract new customers using Talk Fusion!"
Artur has been such an entrepreneur. It was only eight years ago that he bought his first computer and logged on to the Internet for the first time. He spent several years conducting online training, until he was introduced to Talk Fusion in 2011. Once he understood the concept of a digital video communication product and recognized the incredible potential, he immediately signed up.
"At first, I made a lot of mistakes. But once I focused, I realized that if I strictly followed the proven steps of the Talk Fusion system, then trained my new Associates to do the same, I would be 100% successful!"
Artur started his business by sharing Talk Fusion with only three people; within three years he had built a team of more than 150,000 Associates from several different countries. "Our system is awesome!" Artur declares.
"This year we plan to share Talk Fusion with a huge number of people who want our video business solution and a great business opportunity! Team leaders are opening businesses in new cities, new countries, and finding people with a great desire to join our international team and become Customers or Associates!"
Arthur has big plans for himself and his Russian team. They are based on a very simple premise. "Talk Fusion has given me everything a person can dream of. I want to share this unique opportunity with millions of people around the world, and help them change their lives for the better, gain the same financial freedom, and become truly happy."
ABOUT TALK FUSION
A global leader in video communication products, Talk Fusion connects people around the world through cutting-edge video technology and the means to share it, empowering them to live their dreams. Talk Fusion's innovative video products are marketed person-to-person by independent Associates in more than 140 countries.
Founded in 2007 by CEO Bob Reina, Talk Fusion introduced the world's first Instant Pay Compensation Plan. Talk Fusion adheres to the highest ethical business practices and is a member of the prestigious Direct Selling Association (DSA). Reina firmly believes that "with great success comes greater responsibility."
Talk Fusion fosters a strong commitment to giving back to friends, family, communities, and animal charities across the world to produce a positive global change. Learn more at www.TalkFusion.com and "Like" Talk Fusion at www.facebook.com/TalkFusion.
Income disclaimer:
Any earnings portrayed in any Talk Fusion marketing materials are not necessarily representative of the income, if any, that a Talk Fusion Associate can or will earn through his or her participation in the Talk Fusion Compensation Plan. All references to income, implied or stated, throughout the Talk Fusion Compensation Plan are for illustrative purposes only.
These figures should not be considered as guarantees or projections of your actual earnings or profits. Talk Fusion does NOT guarantee any level of income or earnings to any Associate; any representation or guarantee of earnings would be misleading.