Talk Fusion Highlights New Video Release
March 11, 2015
By Nicole Dunkley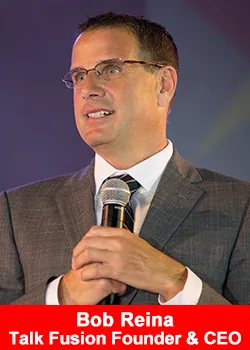 Leading a wave of expanded and extended business opportunity presentations, Talk Fusion has released their new "Now is the Time: Video Chat" marketing video.
The "Now is the Time" video heralds the upcoming full-feature beta launch of Talk Fusion's new CONNECT Video Chat communication product, which allows instant face-to-face communication with up to 8 people across multiple devices and platforms.
Built upon cutting-edge WebRTC protocols, patent-pending Video Chat offers unmatched video quality, and includes text chat and file share.
The promotional video also ties Video Chat directly into the company's powerful business opportunity with a simple message: the time is now to join Talk Fusion. In conjunction with the "Now is the Time" release, Talk Fusion has substantially increased the schedule of live business opportunity presentations, all made using the company's proprietary Live Meetings video conferencing platform.
Hosted by top Talk Fusion Leaders from around the world, over 126 live video broadcasts are held weekly in 9 different languages; the number of English presentations alone has doubled. Daily presentations are held in Bulgarian, Mandarin Chinese, French, Japanese, Russian, and English, with additional presentations in German, Hungarian, and Spanish – all to reach Talk Fusion's vital global market.
These presentations are in addition to the multitude of individually hosted presentations in other languages and the video opportunity presentation available around the clock at JoinTalkFusion.com.
This first quarter push for success comes with less than two months remaining for Talk Fusion Associates to reach the rank of Diamond and attend the company's fifth bi-annual Dream Getaway incentive vacation in Maui, Hawaii.
With a qualification deadline of May 3rd, Associates are taking advantage of new promotional videos like "Now is the Time" and the increased availability of business opportunity presentations that explain the power of Talk Fusion's Instant Pay Compensation Plan to people eager to find financial freedom.
These additional opportunity presentations, plus the newly redesigned CONNECT products, additional exciting incentives, and highly motivated Talk Fusion Leaders and Associates, give resounding support to the new promotional video's theme: there has never been a better time to join Talk Fusion and ride the wave of enthusiasm to success.
ABOUT TALK FUSION
A trend-setting industry leader, Talk Fusion connects people around the world through cutting-edge video technology for social and business communication. Talk Fusion's innovative video products are marketed person-to-person by independent Associates in more than 140 countries, empowering them to earn the financial freedom to live their dreams.
Founded in 2007 by CEO Bob Reina, Talk Fusion introduced the world's first Instant Pay Compensation Plan. Talk Fusion adheres to the highest ethical business practices and is a member of the prestigious Direct Selling Association (DSA). Reina firmly believes that "with great success comes greater responsibility."
Talk Fusion fosters a strong commitment to giving back to friends, family, communities, and animal charities across the world to produce a positive global change. Learn more at www.TalkFusion.com and "Like" Talk Fusion at www.facebook.com/TalkFusion.
Income Disclaimer:
Any earnings portrayed in any Talk Fusion marketing materials are not necessarily representative of the income, if any, that a Talk Fusion Associate can or will earn through his or her participation in the Talk Fusion Instant Pay Compensation Plan. All references to income, implied or stated, throughout the Talk Fusion Instant Pay Compensation Plan are for illustrative purposes only. These figures should not be considered as guarantees or projections of your actual earnings or profits. Talk Fusion does NOT guarantee any level of income or earnings to any Associate; any representation or guarantee of earnings would be misleading. The purchase of a Talk Fusion Product Package is completely optional and is not required for an Associate to participate in the Talk Fusion Instant Pay Compensation Plan.