4Life Reveals 4LifeTransform At 2015 Convention
April 18, 2015
By Nicole Dunkley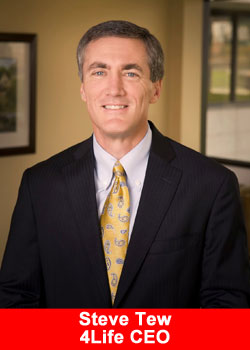 In front of 7,000 people from 70 countries, 4Life launched the new 4LifeTransform product line, featuring the much anticipated Pro-TF™, during General Session I of Convention 2015: Bring Dreams Home. The international event was translated into eight languages.
The 4LifeTransform brand includes PRO-TF™, PRO-TF™ Protein Bars, and a repositioning of the top-selling product, 4Life Transfer Factor Renuvo®.
PRO-TF is a proprietary Protein Blend that provides 20 grams of high DH protein and ultra-fast whey and egg protein, plus undenatured whey protein concentrate and 600 mg of 4Life Transfer Factor® in every two-scoop serving. Currently the product is registered in 21 markets around the world.
Chief Scientific Officer Chris Lockwood, PhD, CSCS: "I've spent years researching the physiological effects and benefits of different types of proteins. I believe that PRO-TF is one of the most advanced protein products ever developed to transform the human body and improve health, fitness, and performance."*
4LifeTransform includes a simple, scalable, and shareable fitness program supported by the 4LifeTransform App (available from App Store and Google Play) that offers workout ideas, meal plans, and a customized daily protein intake calculator.
President and CEO Steve Tew: "PRO-TF and PRO-TF Protein Bars are patent-pending, university tested, and customer approved. These products will be game changers for serious-minded business builders."
The company also launched five other products at today's event: Energy Go Stix® Pink Lemonade, spa-caliber shower essentials including enummi® Shampoo, enummi® Conditioner, enummi® Body Wash, and RiteStart® Kids & Teens with 22 essential vitamins and minerals.
4Life Founder and Chairman of the Board David Lisonbee: "My wife Bianca and I launched 4Life Research® in 1998 with a steadfast commitment to manufacturing science-based products. PRO-TF represents a significant advancement in the company's research and development of our proprietary 4Life Transfer Factor® products."
To learn more about the 4LifeTransform program, visit www.4lifetransform.com. 4Life has offices on five continents to serve a global network of independent distributors through science, success, and service.
About 4Life
In 1998, 4Life Founders David and Bianca Lisonbee launched the company's flagship immune system support product, 4Life Transfer Factor. As the first network marketing company to do so, 4Life's leading group of doctors, scientists, and researchers continue to advance immune system science with innovations in product formulation, production standards, delivery methods, and more.
Today, people in more than 50 countries enjoy the immune system support of 4Life products.