Mary Kay Makes Significant Impact On Environment, Celebrates Arbor Day
April 25, 2015
By Tina Williams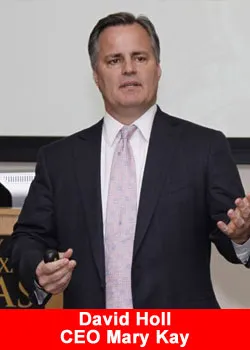 As the nation celebrates Arbor Day, Mary Kay Inc. is receiving the Promise to the Earth Award during the 2015 Arbor Day Awards.
The award recognizes the global cosmetic company's commitment and contribution to tree planting, conservation and sustainability. The honor is being awarded to Mary Kay Inc. during the awards ceremony held April 24-26 at the Arbor Day Farm in Nebraska City, Neb.
As part of Mary Kay's corporate sustainability program, the Pink Doing Green? initiative provided financial support for the planting of nearly one million trees across the nation including five national forests in Montana, Idaho, Michigan, Colorado and California.
In partnership with the Arbor Day Foundation, the company also made a 5-year, $500,000 commitment as the lead corporate sponsor for the Lost Pines Forest Recovery Campaign to plant more than 4 million trees after one of the most destructive wildfires in Texas history.
"At Mary Kay, we are always looking for ways to be even more sustainable and green," said Crayton Webb, Vice President of Corporate Communications and Corporate Social Responsibility for Mary Kay Inc. "The award from the Arbor Day Foundation is a huge honor as we continue our tree planting efforts in the United States and around the world. Mary Kay recognizes the important role companies can and should play in protecting our environment and the Earth for future generations."
Since 1972, the Arbor Day Foundation has recognized the inspiring and life-changing work of leading environmental stewards and tree planters through the annual Arbor Day Awards. Past award recipients include the late Nobel Peace Prize winner Wangari Maathai, Maryland Governor Martin O'Malley and the United States Forest Service.
"The Promise to the Earth award honors sustained corporate commitment and national leadership by companies like Mary Kay that partner with the Arbor Day Foundation on special projects in the planting of trees and education," said Dan Lambe, President of the Arbor Day Foundation. "The millions of trees planted with the generous financial support from Mary Kay will have a positive impact on the planet for generations to come. These trees have restored important forest watersheds and vital wildlife habitat across the nation."
Mary Kay's tree planting efforts also include worldwide initiatives. Mary Kay China, Mary Kay Russia, Mary Kay Mexico and Mary Kay Malaysia all support tree planting programs.
About Mary Kay
Irresistible products. Positive community impact. Rewarding opportunity. For more than 50 years, Mary Kay has offered it all. With 3.5 million Mary Kay Independent Beauty Consultants and $4 billion in global annual sales, Mary Kay is a top beauty brand and direct seller in more than 35 markets around the world.
About the Arbor Day Foundation
The Arbor Day Foundation is a million member nonprofit conservation and education organization with the mission to inspire people to plant, nurture and celebrate trees.