WiBOO – Brazilian Social Network Launches With A MLM Program
April 7, 2015
By Team Business For Home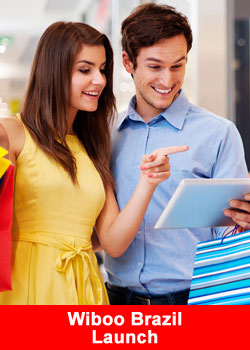 WiBOO is a web-based service intended to unite social network with e-commerce, focused on micro and small businesses, and distributed as Multilevel Marketing. The platform is the newest acquisition of IGC (Intelligence Group Consulting) based in Sao Jose dos Campos, Brazil.
The idea of creating WiBOO was based on a market research, commissioned by IGC, which showed that 99% of the entrepreneurs in Brazil are micro and small business owners. However, 52% of them are not using digital marketing to expand their business due to lack of knowledge or very high advertising prices.
By creating a virtual marketplace combined with intuitive social network, WiBOO hopes to attract the attention of the major part of those unattended otherwise businesses. The business owners will be able to purchase very affordable "virtual vitrines" and offer promotions and discounts to existing and new customers.
The WiBOO platform will attend the following types of users/customers:
Users of the social network, which will be able to interact in a similar to Facebook manner, however in a cleaner and much more intuitive way. The registration is free of charge and users can earn Social Coins (virtual currency) based on their activities and engagement in the network. The coins could be used to purchase services and products in the E-commerce section of the website.
Micro and small business owners, which will be able to buy advertisement space within the E-commerce section to expand their business and grow their customers' base through promotions and discounts receiving WiBOO Coins (virtual currency) as part of payment.
Distributors, which will be rewarded through a Multilevel Marketing compensation plan, who will offer the advertisement packages to small and medium business owners, and other distributors.
The platform is both web and mobile friendly, which will make the interaction and e-commerce activities extremely easy even for users with slow internet access.
At the time of its pre-launch in March 2015, WiBOO has attracted serious media attention in Brazil as well as attention from local e-commerce associations, small business development banks and institutions – private and governmental. WiBOO is also already member of ABRANET (The Brazilian Association of Internet) and ABComm (The Brazilian Association of E-commerce).
"We hope to be able to change the way micro and small business owners in Brazil advertise and use digital marketing – says Pedro Alexandre Santos, CEO of WiBOO.
Currently, the micro and small entrepreneurs largely avoid advertising on the Internet as either they don't know how to do it efficiently or don't have the money for that. Our idea is to make digital marketing affordable and easy for them, so that they could have the same chance to grow their business as the big guys do."
WiBOO is online since March 21, 2015, accessible first in Portuguese and in the following months will release its English interface for users worldwide. The platform will be available in additional languages until the end of 2015.
About IGC
IGC (Intelligence Group Consulting) primary business is consulting, juridical assistance and market research for the Direct Selling industry in Brazil as well as for foreign direct sales companies looking to enter the Brazilian marketplace.
The IGC Head Office is located in the city of Sao Jose dos Campos, home of the Brazilian aeronautical industry, strategically placed between Sao Paulo and Rio de Janeiro.
WiBOO founding members: Pedro Alexandre, Chief Executive Officer – Geraldo Marques, Chief Marketing Officer – Quenio Sene, Chief Finance officer – Vagner Sobrinho, Chief Technology Officer – Ben Popov, Public Relations