Zrii Celebrates Pre-Launch In Malaysia
April 14, 2015
By Tina Williams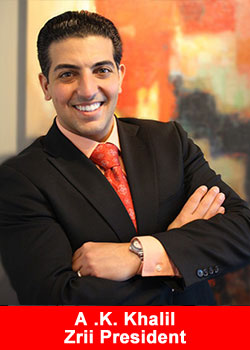 Zrii LLC today announced that extremely strong growth has propelled the company to start moving into Southeast Asia. The message was delivered to an overflow crowd at a pre-launch celebration in Kuala Lumpur, Malaysia.
"We've grown 1,000% in the last two years and are now doing over $10 million a month in sales," said Zrii President A. K. Khalil. "This is the power of Zrii's vision. We transform lives around the world with an opportunity that excites and inspires everyone we touch to make their dreams come true."
Regina M. Noriega, a brand strategist with over 20 years of experience managing large teams of network marketing leaders, told the standing-room-only crowd, "Doug Wead and I are thrilled to be expanding our growing international business into Malaysia. We are honored to be working with legendary Zrii CEO Bill Farley and Zrii President A. K. Khalil, who have developed a global brand with such a dynamic opportunity.
This is an exciting milestone for Zrii and our business partners. We are all 100% committed to bringing entrepreneurship and the unique opportunity that is Zrii into the lives of many in the Southeast Asia region."
Zrii 6-Star Independent Executive Dallas Clounch also addressed the group, explaining how Zrii's "4-weeks to 4-Star, an iPad and a car" business opportunity opens the door for anyone to start their own business and rapidly generate cash flow and rewards.
The exuberant crowd included current and prospective Zrii Independent Executives who will be among the first wave to bring Zrii's exceptional products and premiere business opportunity to Southeast Asia.
Zrii was founded in 2008 with the goal of helping people learn how to live without limits. From life-changing opportunities for personal and financial success, to premium-quality products that support an active lifestyle, Zrii is empowering people to make their dreams come true all over the world. Zrii is proud to have partnered with the world-renowned Chopra Center for Wellbeing, headed by Dr. Deepak Chopra, and bestselling author Chris Gardner, to people across the United States, Canada, Australia, New Zealand, and Central and South America.