ARIIX's Deanna Latson to Headline Go Red for Women Conference
May 9, 2015
By Team Business For Home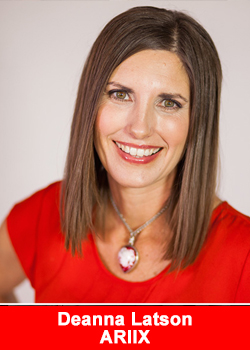 ARIIX, an international opportunity company that promotes healthy, toxic-free living, announced today that Founder and CPO Deanna Latson will be headlining the 2015 Go Red For Women annual luncheon event as keynote speaker in Cincinnati, Ohio. Last year the event, which includes health screenings and educational sessions, raised over $600,000 for the American Heart Association (AHA).
Latson is a frequent media guest expert and keynote speaker with regular appearances on local TV stations and national network programs as well as headlining for events and organizations around the world. Dedicated to educating and inspiring people about nutrition, health, and wellness, Latson empowers audiences to learn more about the foods they eat and the choices they make on a daily basis so that they can bring their bodies back to a natural, healthy balance, boosting their ability to fight disease and maintain optimum health and vitality.
Each year, the Go Red For Women luncheon is the regional focal point in the AHA's effort to encourage women to embrace a heart-healthy lifestyle. Although it is the No. 1 killer of women, heart disease is often seen as a predominately male health issue. According to the American Heart Association, cardiovascular diseases cause one in three women's deaths each year, killing approximately one woman every minute.
An estimated 43 million women in the U.S. are affected by cardiovascular diseases.

90% of women have one or more risk factors for heart disease or stroke.

80% of heart disease and stroke events could be prevented.
"This truly hits home for me," said Latson. "To protect our quality of life, we must protect our health. To protect our health, we must be vigilant about our hearts."
About Go Red For Women
Known for its use of a red dress, the AHA's Go Red For Women movement began in 2003 as an effort to bring heart disease to the forefront of women's health. Go Red For Women is the American Heart Association's national movement to end heart disease and stroke in women. Go Red For Women advocates for more research and swifter action for women's heart health. The movement harnesses the energy, passion, and power women have to band together and collectively wipe out heart disease and stroke. It challenges them to know their risk for heart disease and take action to reduce their personal risk. It also gives them the tools they need to lead a heart-healthy life. Around the nation, more than 800,000 women have chosen to "Go Red," taking a meaningful step toward better heart health. Area women can enroll in the free Go Red program at www.goredforwomen.org.
About ARIIX
ARIIX is an international opportunity company that creates superior, exclusively branded products marketed through independent representatives. To promote healthy living, ARIIX develops toxic-free products through collaboration with world-renowned experts in the health, wellness, and fitness industries.
The ARIIX opportunity and products are available in Australia, Canada, Greater China including Hong Kong SAR and Taiwan SAR, Japan, Kazakhstan, Mexico, The Netherlands, Portugal, Russia, Singapore, South Korea, and the United States. For more information please visit www.ariix.com or phone 1-855-GO-ARIIX.