Javita Celebrates New Diamond Club Leaders
May 5, 2015
By Tina Williams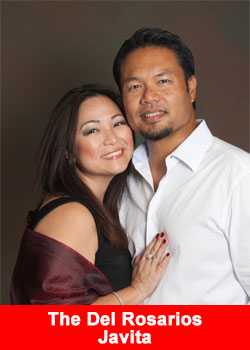 Javita welcomes Romichelle and James Del Rosario to the Diamond Club.
The Del Rosario's reside in Buena Park, CA and joined Javita in September 2013. Although this is the couple's first business endeavor in network marketing, they have been steadily climbing the ranks, achieving Diamond in a little over a year.
Since my husband, James, and I joined Javita we have been sharing this incredible opportunity with everyone we know. Now, it has become a family business, with my parents and two brothers and their spouses also having successful Javita businesses.
Romichelle arrived to America from the Philippines in 1990 to seek a better life with her parents and four siblings. We all shared one room and we struggled to pay the bills, and yet, my parents still managed to put us through school in hopes of a better future. But, no matter how much we tried to make things better for ourselves, there was always a struggle to make ends meet. Now, because of Javita we are all experiencing financial security and have the quality of life we were working so hard towards, she said.
Javita has given us the option to continue working part time; I no longer have to work two shifts just to get by. My parents no longer worry about paying their mortgage, and best of all we all get to travel together to places we've only imagined, and our children get to travel with us too! We are making memories with our family that will be shared with generations to come.

The couple said they began as consumers of Javita and immediately fell in love with the amazing products and the health benefits they were experiencing. When we were introduced to Javita we were instantly attracted to the products. We are thankful for the effectiveness of the products because my family, especially my dad, is healthier because of them, said Romichelle.
The couple said it was a team effort that got them to this level of success. Our team has made it possible for us to become Diamond because we all share one goal — helping others, James said.
The couple has demonstrated dedication and determination and has truly become leaders within the company. The Del Rosarios said for anyone looking to achieve success they must give it 100%. First, you must believe in the company that you are a part of and the products, and be passionate when you are sharing the opportunity. Second, create leaders and help your Members achieve their goals. And finally, always keep positivity and good vibes within the team, the couple said.
The couple said they are using this opportunity to change lives. Javita has helped thousands of people and we believe we can help thousands more!
About Javita
Javita, with global headquarters in Boca Raton, Florida, is a company committed to enhancing the lives of millions of people by bringing together two great industries – coffee and direct selling. Javita offers unique, great tasting products and an incredible business opportunity that can enhance people's lives – one cup at a time. The company has offices and warehouses in North America, Europe and Asia and does business in more than 30 countries globally. Millions of people already have coffee in their life, Javita gives you coffee for your life.