Youngevity Launches Outbound Sales & Retention Team
June 25, 2015
By Team Business For Home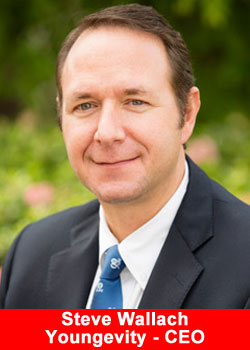 Youngevity® Essential Life Sciences, a wholly-owned subsidiary of Youngevity International, Inc. a global direct marketer of nutritional and lifestyle products and also a vertically-integrated producer of gourmet coffees for the commercial, retail and direct sales channels, announced the creation of an Outbound Sales and Retention Team along with an initiative to review and improve their overall customer and distributor experience.
Youngevity has engaged Alex Theis, a veteran of the Direct Sales industry, to spearhead both campaigns. Mr. Theis has worked with several companies in the industry and is a well-rounded executive with high-level expertise and a proven track record of developing retention initiatives and outbound revenue generation teams. Additionally Alex Theis brings executive level experience in customer service, sales, marketing, and field relations. Mr. Theis has extensive international experience, working with large groups in Asia, Australia, New Zealand, and Europe, as well.
Youngevity's Outbound Sales and Retention Team officially launched in March of this year. The newly formed department contacts customers within Youngevity's immense database of consumers through what's called a courtesy call program. The outbound courtesy calling program's mission is to further engage, educate, and grow Youngevity's account base. Members of the team are trained to answer product questions, create good will, and are incentivized to generate incremental revenue. As the Outbound Courtesy Calling Team expands they will also be working in a support role to assist in streamlining the integration process of Youngevity's aggressive acquisition strategy.
This new initiative exemplifies Youngevity's dedication to their customers and distributors. Youngevity is one of the few Direct Selling companies to have a department solely focused on retention and improving the customer and distributor experience. I'm proud to be a part of this growing and innovative company, stated Alex Theis.
The implementation of these new programs provides another example of the investments that we are making to stay ahead of our growth curve and to leverage and maximize our acquisition strategy, said Steve Wallach, Chief Executive Officer of Youngevity International. We're excited to have someone with the industry experience and proven record of success that Alex Theis brings to Youngevity. We are quickly seeing meaningful results on both fronts.
About Youngevity International
Youngevity International, Inc., is a fast-growing, innovative, multi-dimensional company that offers a wide range of consumer products and services, primarily through person-to-person selling relationships that comprise a network of networks. The Company also is a vertically-integrated producer of the finest coffees for the commercial, retail and direct sales channels. The Company was formed after the merger of Youngevity Essential Life Sciences (www.youngevity.com) and Javalution Coffee Company in the summer of 2011. The Company was formerly known as AL International, Inc. and changed its name to Youngevity International, Inc. in July 2013.