Take Shape For Life Annual Convention Attracts 2,700
July 17, 2015
By Team Business For Home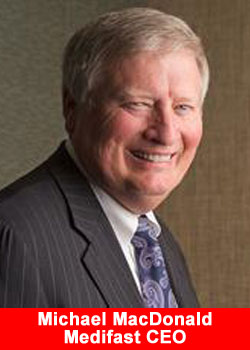 Medifast, Inc. a leading United States manufacturer and provider of clinically proven weight-loss and healthy living products and programs, held their annual Take Shape For Life National Convention in Orlando, Florida from July 9th through July 12th. Within this year's theme of Awaken. Connect. Transform, Take Shape For Life unveiled new business and brand building tools to nearly 2,700 attendees.
The Take Shape For Life Convention is always a highlight of the year and we are very pleased with this year's event, said Michael MacDonald, Chairman and Chief Executive Officer, Medifast, Inc.

We launched a number of key initiatives to our valued Health Coaches and are excited to see the Field embrace and share these new unification and simplification tools. Our focus will always be to provide our Coaches and Clients with the information they need on their journey to Optimal Health and I look forward to the growth of our top division within Medifast.
Take Shape For Life Health Coaches, Clients and guests from across the country heard inspiring stories from top Health Coaches and Field leaders, participated in training seminars and workshops to gain tools and knowledge to grow their businesses, and celebrated the rank advancements of many in attendance.
The National Convention also served as a launch pad for four brand new product kits, a new business kit and collateral materials for Health Coaches, fresh new website design and content, an enhanced mobile site, new and improved training models, and the introduction of our Field First support division within Take Shape For Life.
Our annual Convention is a time to share our story and legacy with both new and tenured Health Coaches, recognize our top performers in the Field, and inspire all attendees to leave Orlando focused on working together to get America healthy, said Meg Sheetz, CEO of Take Shape For Life. The energy level, excitement, and engagement from the Field were outstanding and united all in attendance around this year's powerful event theme.
With 24 informative workshops from which to choose, attendees received training on many topics. These sessions included how to grow their businesses, understanding the compensation model, engaging new Clients, building dynamic people skills, and implementing the business path among many others. Health Coaches in attendance were educated on best practices methods by talented Take Shape For Life Field leaders.
By sharing the Trilogy of Optimal Health – Healthy Body, Healthy Mind, and Healthy Finances – we are helping more people live healthier, active, balanced lives, said Dr. Wayne Scott Andersen, Take Shape For Life Co-Founder & Integrated Presidential Director.

We are honored to welcome more Coaches and Clients to our vibrant Take Shape For Life community where we are redefining the path to health and wellbeing. Ultimately, we want to help America do well for themselves while doing something purposeful for others.