Thirty-One Gifts Continues Rapid Growth – Fills Nationwide Arena
July 31, 2015
By Tina Williams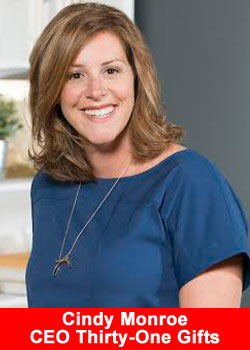 More than 10,000 women will turn Downtown pink this weekend as Columbus-based direct-sales powerhouse Thirty-One Gifts holds its annual sales conference at Nationwide Arena.
It's a big deal for Columbus. City officials estimate that the convention visitors will spend $6.3 million by the time the conference ends on Monday. It's so big that Mayor Michael B. Coleman has renamed Nationwide Boulevard Thirty-One Way, the street now sporting a new, bright pink sign.
But it's also a big deal for the company, said Cindy Monroe, founder, president and CEO, during a break from rehearsals for the huge opening show that will kick off the convention on Sunday.
"We're super proud of how the city has embraced the conference," Monroe said. "The last couple of years, there's been more and more awareness that Thirty-One is in town. Our employees were very touched when the city renamed a street for the conference."
Monroe and company are in the second week of a two-week round of conventions. Last weekend, they were in Denver for a similar if, at 4,000 attendees, slightly smaller conference.
Thirty-One has been on a roll for a while, albeit with an occasional stumble. The company, which Monroe started in her basement in 2003, saw its revenue grow from $38 million in 2009 to $760 million in 2013, then fall to $643 million in 2014.
Nevertheless, the Women Presidents Organization last year named it the fastest-growing woman-owned company in the world. The company reports it has more than 102,000 independent sales consultants; its catalog includes a variety of totes, purses, accessories and decor items that generally are sold during parties.
During the Columbus convention, the company will formally introduce its fall and winter products. Many of the company's sales consultants saw some new products in a sneak preview in June at 200 theaters across the country, but many have not.
The fall catalog features products that are similar to previous merchandise but with improvements, spokeswoman Sara West said.
Some bags, for example, can be written on with chalk. Other bags that are insulated now have a "leak lock" lining, "so now you can pour ice directly into the thermal," West said.
The familiar personalized embroidery is getting updated, too. In the past, customers could order only two lines of embroidery with eight characters per line. Starting with the fall merchandise, it's up to three lines with 16 characters per line.
The fall line also includes much more jewelry. Thirty-One Gifts acquired Utah-based artisan jewelry company Jewel Kade in December and launched a small line of giftable jewelry, JK by Thirty-One, in March. The fall line expands on that spring launch.
The convention, for the first time, also will include 273 of Thirty-One's new 4,000-strong force of Canadian sales
consultants.
Rounding out the activities are awards for outstanding sales performers and training sessions.
Part of the training sessions includes instructions on how to blend the company's in-home sales parties with online parties.
"We are seeing that consultants are doing more online parties than ever," Monroe said. "That's great, but we want everyone to remember that it's always been all about relationships, it's not just a transaction."
That emphasis on personal relationships and better living is very much part of the convention.
During the event, the independent sales force will hear inspirational messages from Monroe, as well as speakers Shelene Bryan, founder of Skip1.org, a charity dedicated to providing food and clean water to children in America and around the world; and life coach, author and motivational speaker Valorie Burton.
"One woman in Denver told me that she expected to hear about products and bags but was surprised to hear about how to have a better life," Monroe said.
As part of that mission, Thirty-One consultants and employees are again performing random acts of kindness during their stay in Columbus and will be posting them to social media using #31Share. For every post made in July with that hashtag, the company will donate 31 cents to Mid-Ohio Foodbank, up to $10,000.
Dispatch.com reports